A complete city car tour of Paris with a dedicated Driver and a Tour Guide.
Together, we will cruise the city streets to see all the monuments.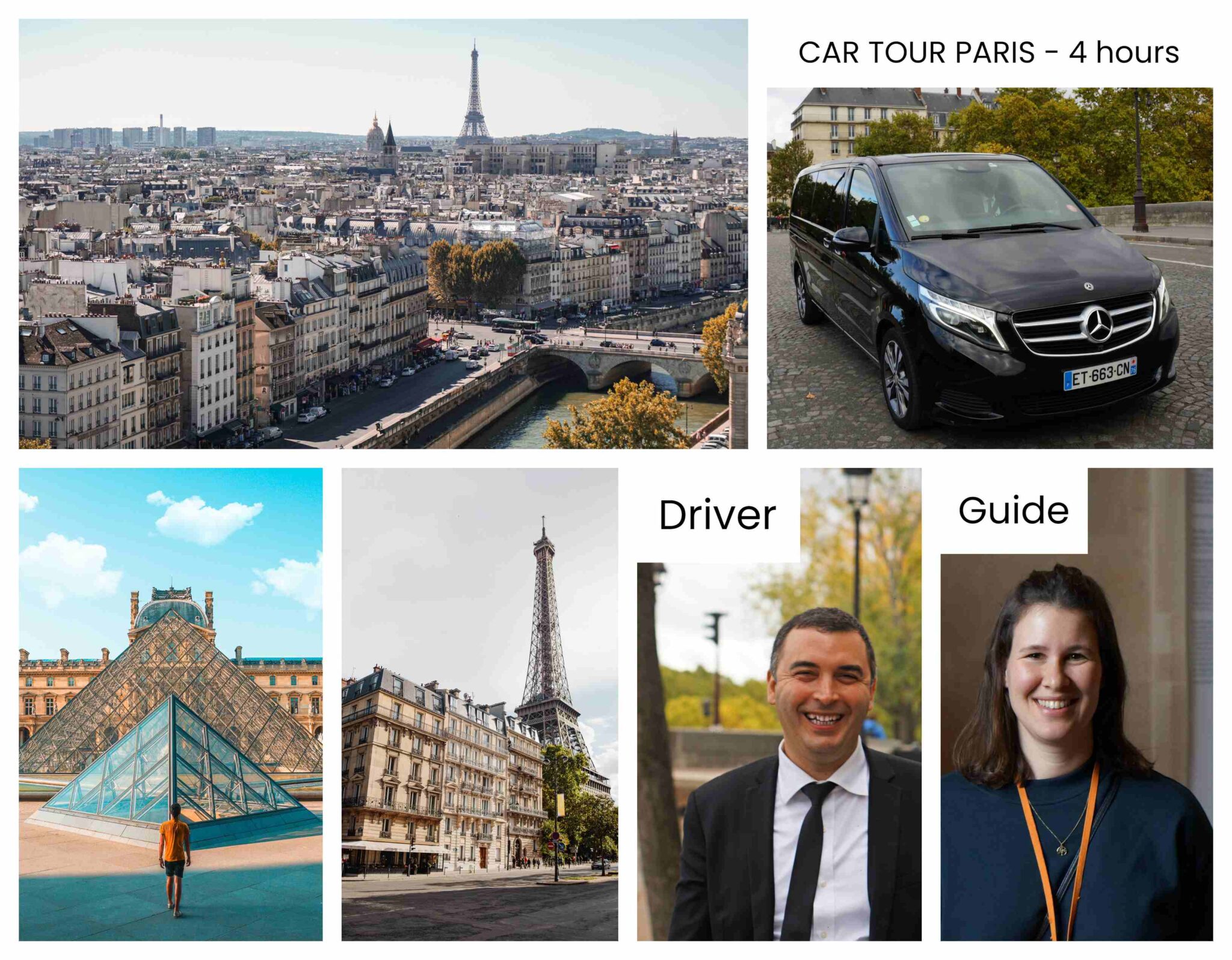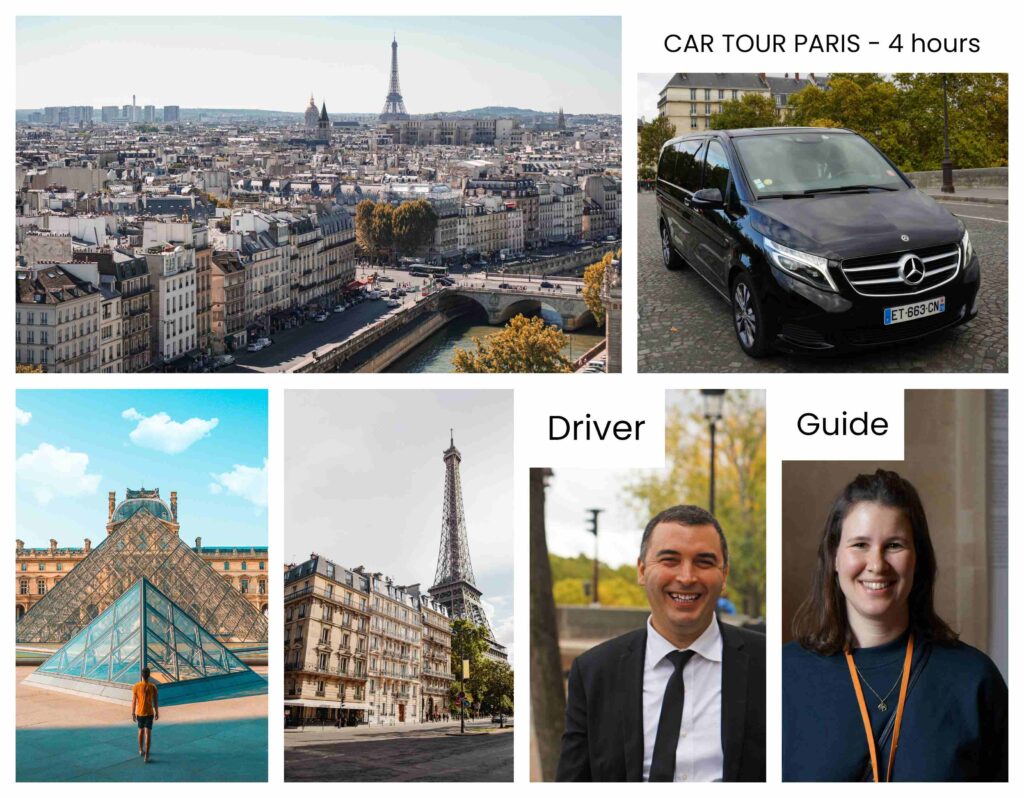 My name is Sam. I am a professional chauffeur in Paris with over 20 years experience.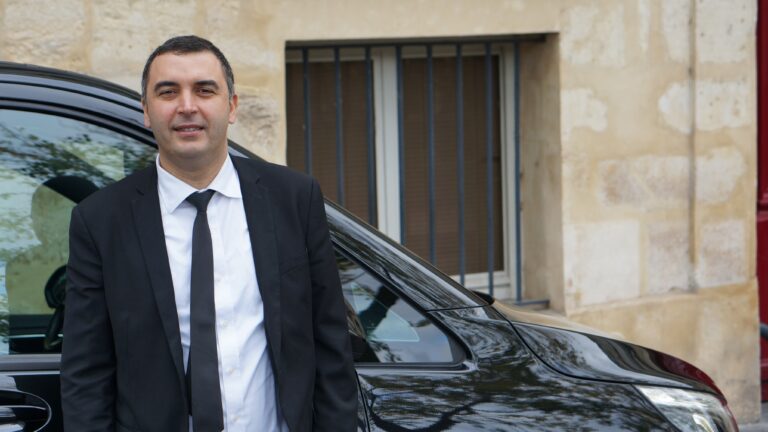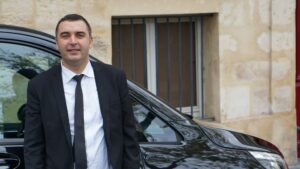 For a truly unique experience, I propose a comfortable fully-equipped Mercedes ride with a Native Professional Tour guide.
My service: Driver + Tour Guide + 6 seats Mercedes Van
The tour guide will be seating next to you in the car.
At our disposal for the entire city tour, the tour guide will tell us stories and give us true insights with professional explanations of Paris History and its landmarks.
The city tour by Mercedes is best programmed at the beginning of your stay in Paris in order to get a feel of the city.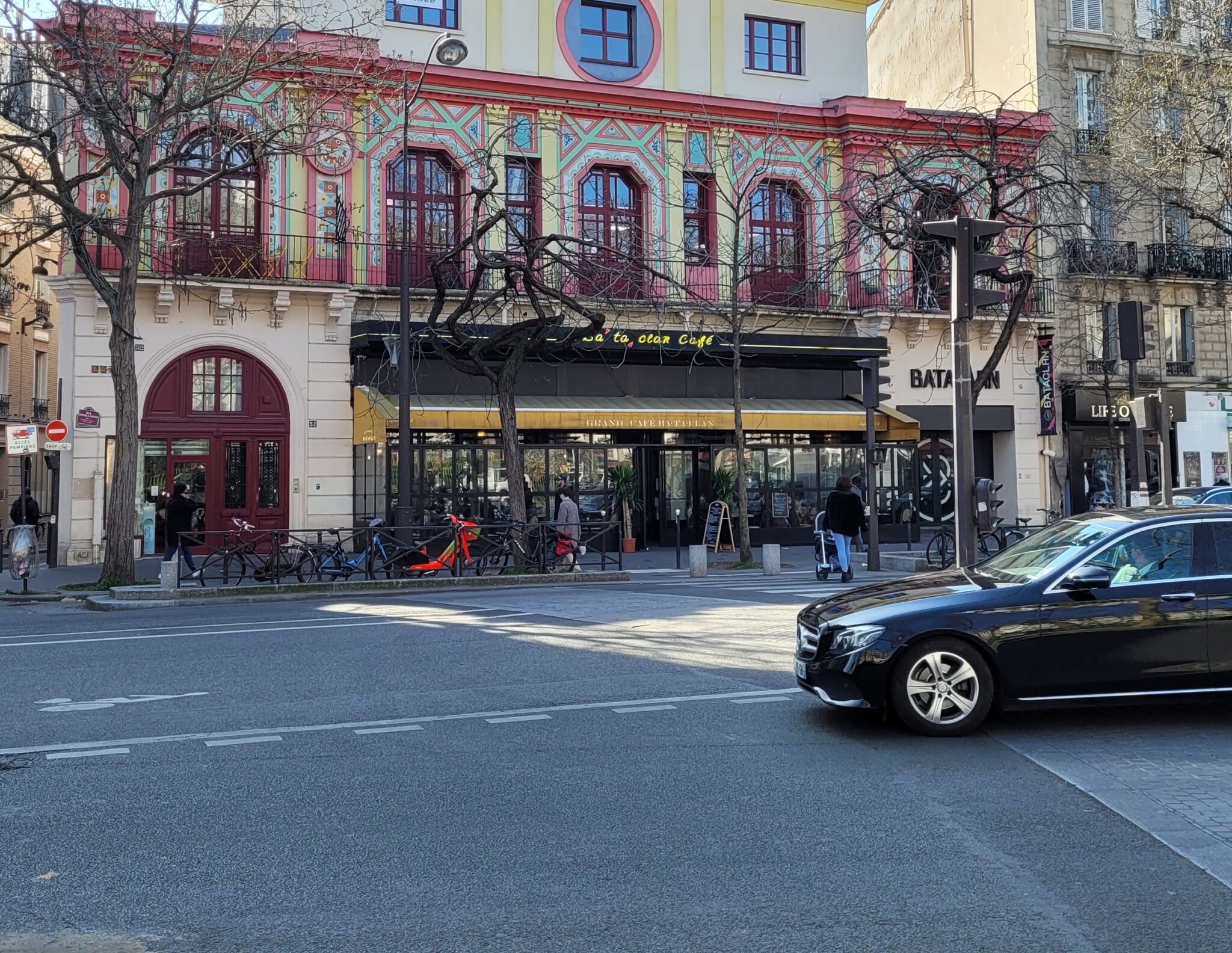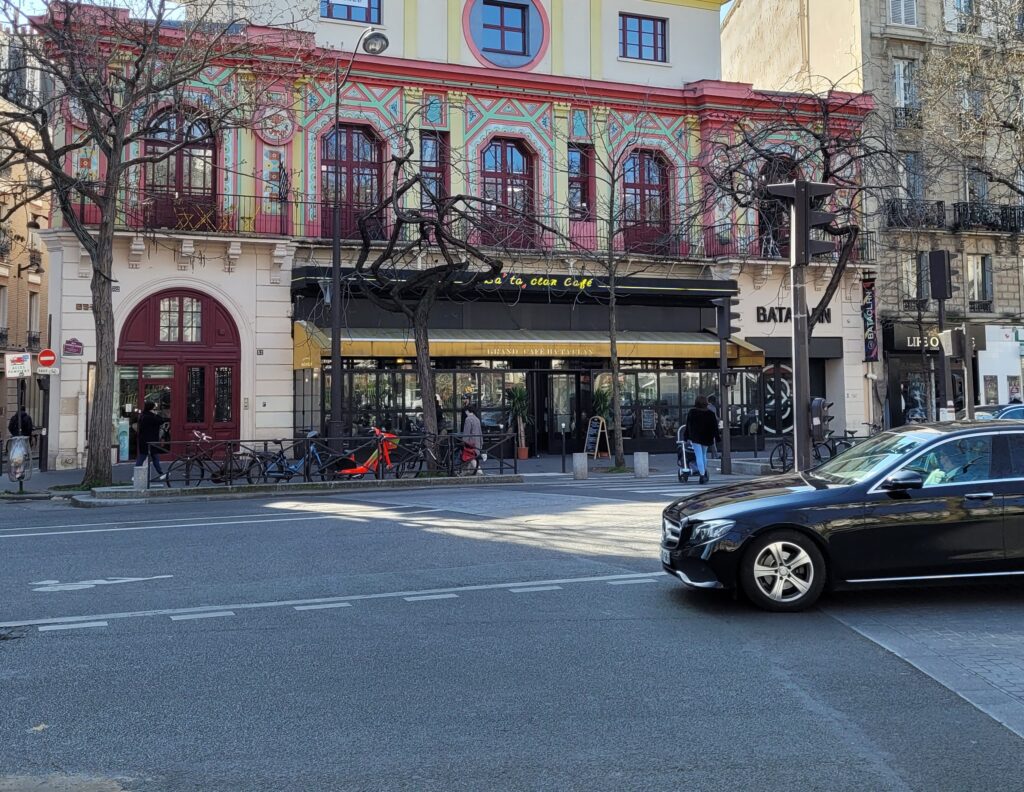 What is the Car Tour Paris?
The Car Tour Paris is a City Tour with a professional driver and a licensed tour guide. The Car Tour Paris tour includes the most famous monuments and areas in Paris. The client can hop on and hop off the car for pictures along the way. The classic circuit includes: Montmartre, Île de la Cité and Ile Saint Louis, Notre-Dame Cathedral, the Latin Quarter, the Panthéon and La Sorbonne University, the Champs-Elysées avenue, bridge Alexander IIIrd, the Grand Palais,  the Arch of Triumph, the historic place de la Concorde, the Madeleine Church,  Opéra Garnier, the Place Vendôme, Le Louvre, the Invalides (Napoleon's tomb), of course the Eiffel Tower.
The duration is 4 hours
We can see the key places and all the landmarks of Paris in 4 hours.
However, you can add some more hours to have a lunch break and get inside a museum, or add some extra sights and activities.
The pick up is at your own address
I will come pick you up at your hotel at 9.30 am
*For the airport pick-up, consider my Layover tour of Paris.
The complete sights
The monuments: Arc de Triumph, Eiffel Tower...
The landmarks of Paris: Louvre Pyramid, the must-see Churches and Synagogues, the Latin quarter...
The best spots for pictures: The Trocadero view on the Eiffel Tower, the Montmartre hill next to Sacré Coeur church, The Glass pyramid, and many more.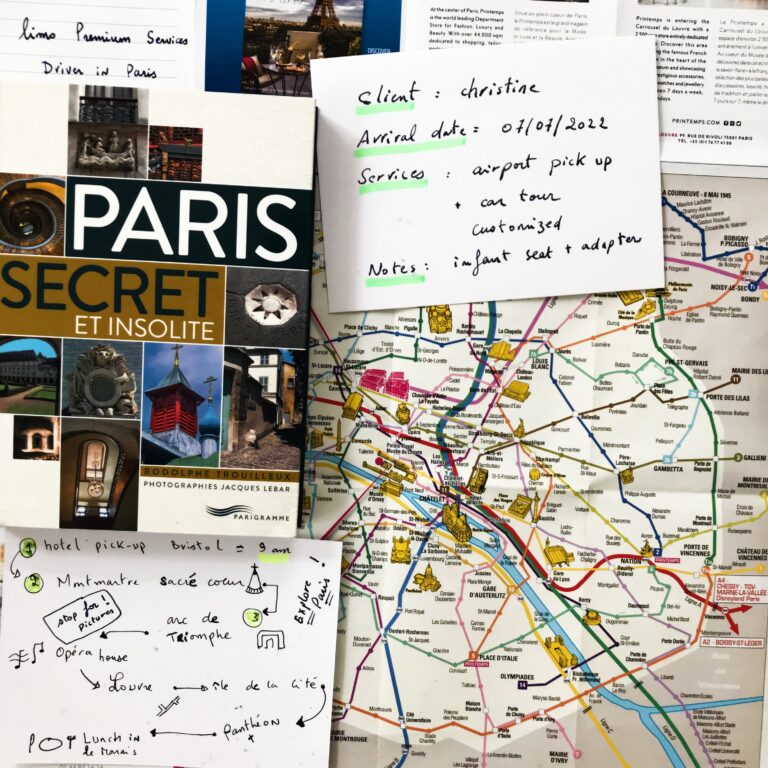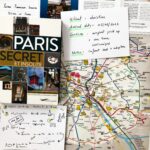 Let's Start!
Here is my detailed Classic Itinerary.
9am - Pick up at your Hotel or Airport Arrival Gate
Meet at the Hall, I will present myself to your Hotel Lobby.
The Hotel concierge will call you and I will wait for you until you are ready to go.
We start the private city tour of Paris usually at 9am.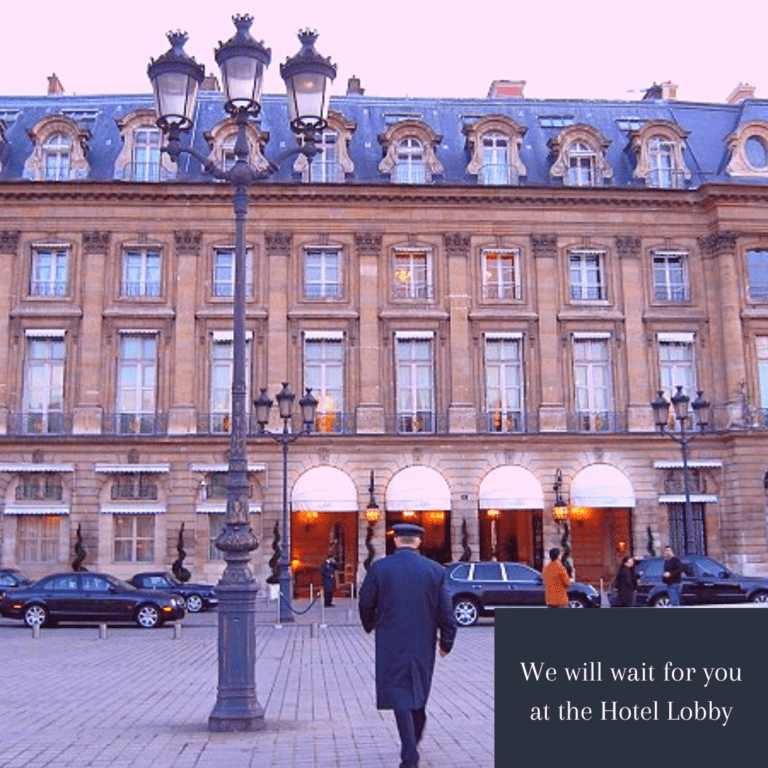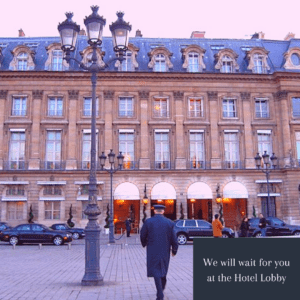 Your ride : You can customize the itinerary at the fullest !
You can hop off and hop on the car for pictures all the way and whenever you need.
We will see :
Highlight 1 - Montmartre
Famous for being the square of Artists and for the Sacre Coeur Church on the hill of Paris :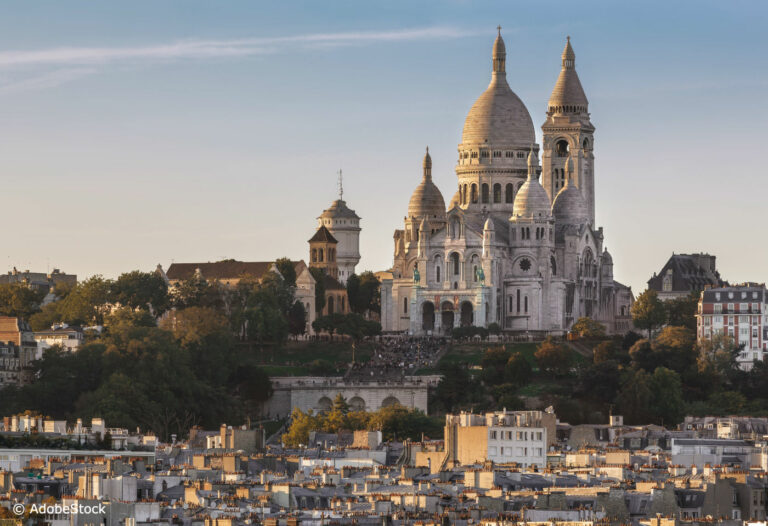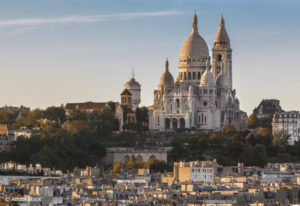 Highlight 2 - Les Invalides
Prestigious place, an extensive complex of 17th-century structures and courtyards in Paris designed for the care and housing of disabled veterans and as a place of worship.
( Invalides means disabled veterans )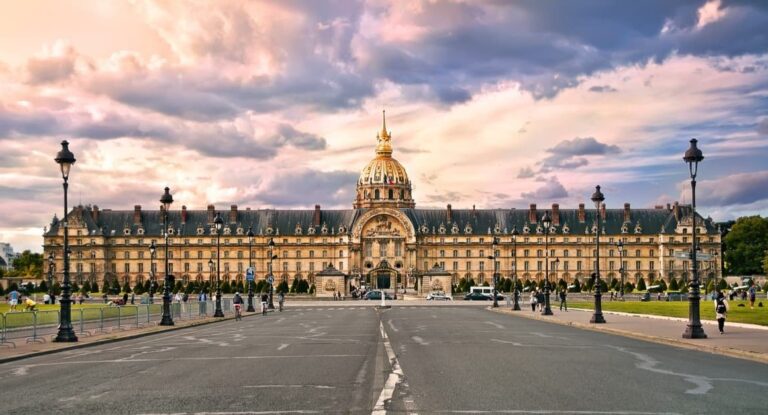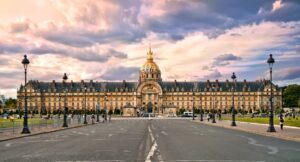 Highlight 3 - Paris Islands 
The unique Notre-Dame Cathedral ( which is under renovation 2020, after the fire of 2019, you can still see some of the damage, but the towers and the gate are still up and beautiful),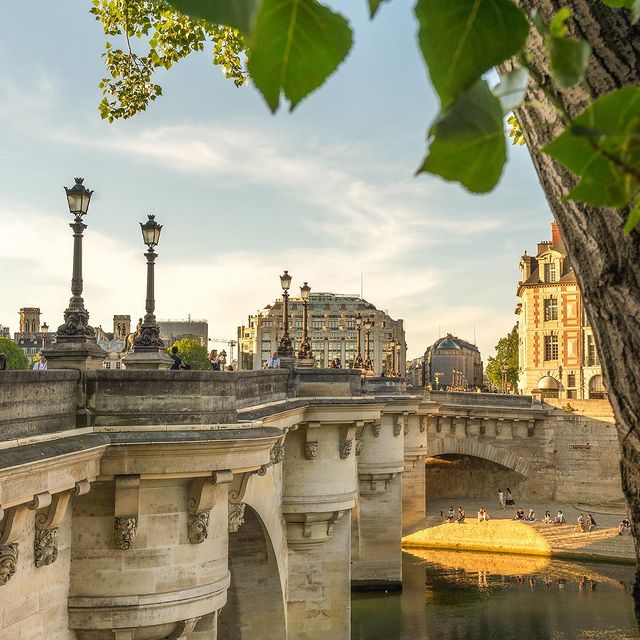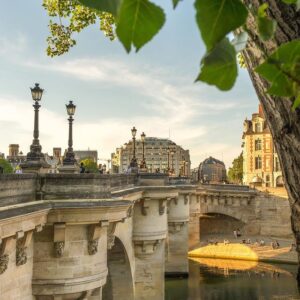 We will do of course a Tour of the Latin Quarter where you can see the the Panthéon and La Sorbonne University
Highlight 4 - The Champs-Elysées Avenue
The most expansive avenue in the world, and where you can see the famed Arch of Triumph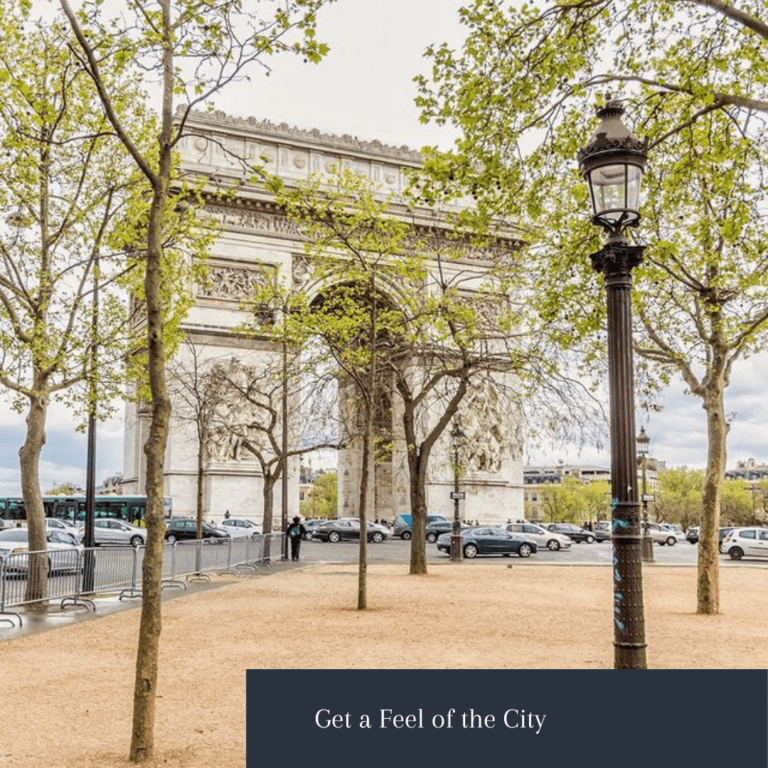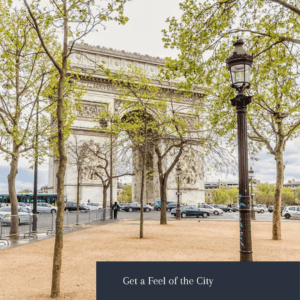 Highlight 5 - Bridge Alexander 3rd and the Grand Palais
See the historic Bridge of Alexandre 3rd, place de la Concorde, and the Madeleine Church.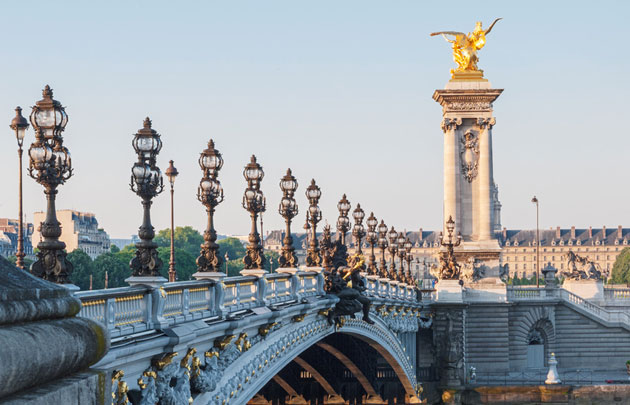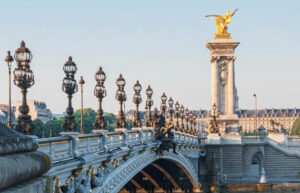 Highlight 6 - See the Opéra Garnier and Place Vendôme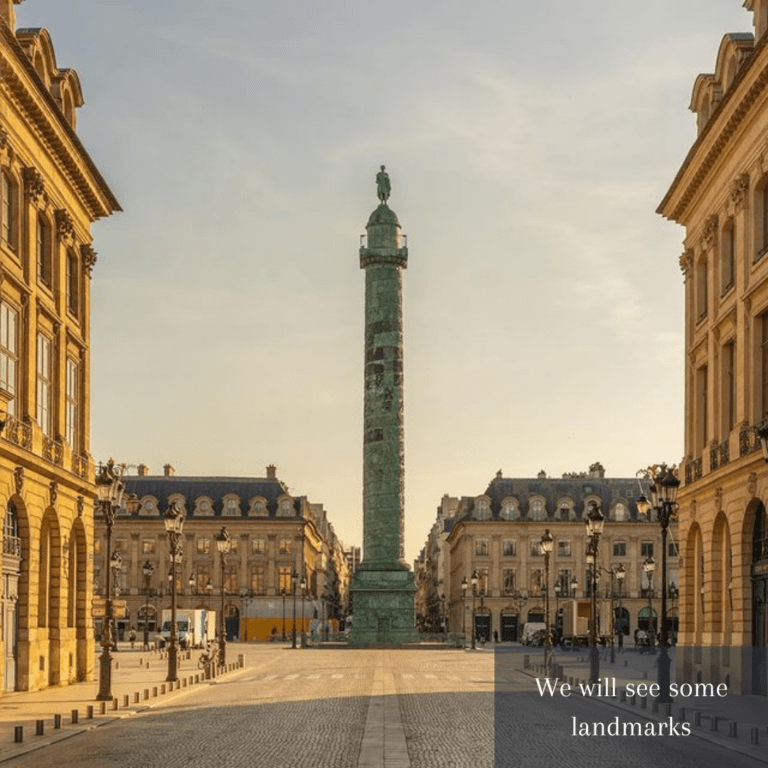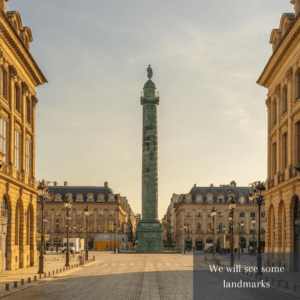 An architectural wonder !
Such beautiful area. Known for luxury and jewelry shops. The most prestigious shops of the planet.
Highlight 7 : Break or Lunch + get inside the Louvre
we will decide together on the day of the tour
We can take a break next to the Louvre Museum and get some tasty food and some energy.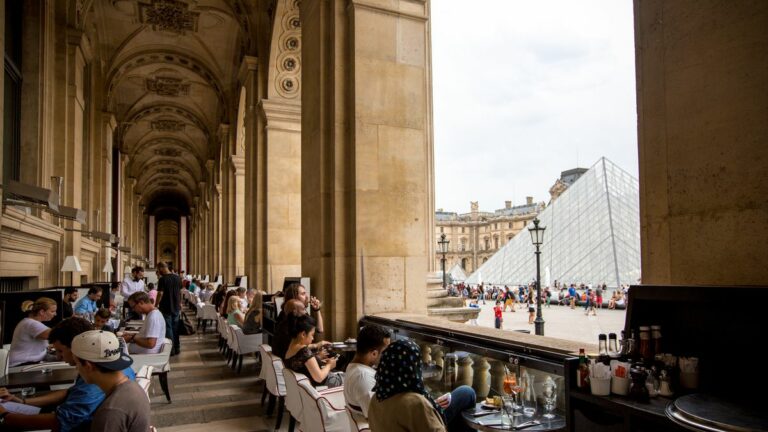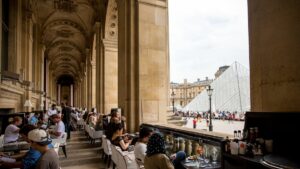 Next, you can Get inside the museum ( with or without a tour guide for example )
Start a quick Highlights tour of the Louvre
Talk about the French History, the history of the Louvre, the famous paintings : "The Liberty guiding the people" by Delacroix, or "the Coronation of Napoleon Bonaparte" and all the masterpieces of the Louvre. ( The Mona Lisa, Venus de Milo ... )
Highlight 8 - Eiffel Tower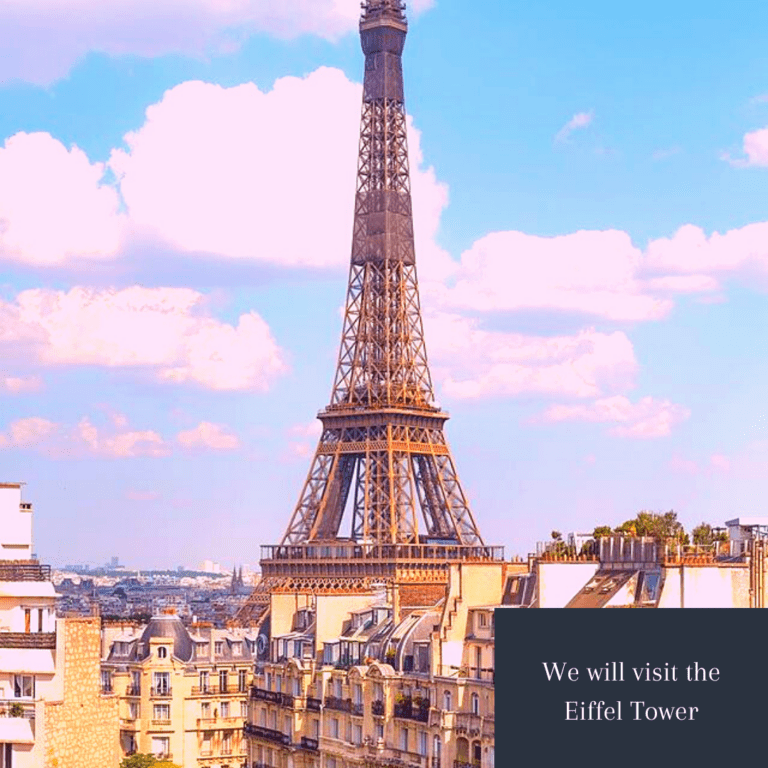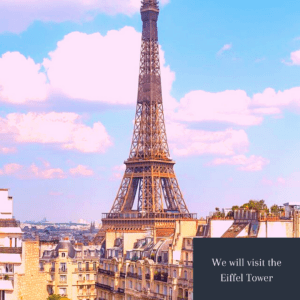 More possibilities
Le Marais, the Jewish Area, the oldest house of Paris, the 17th century mansions, with a quick visit to Place des Voges, and one or two synagogues if we have got some available time.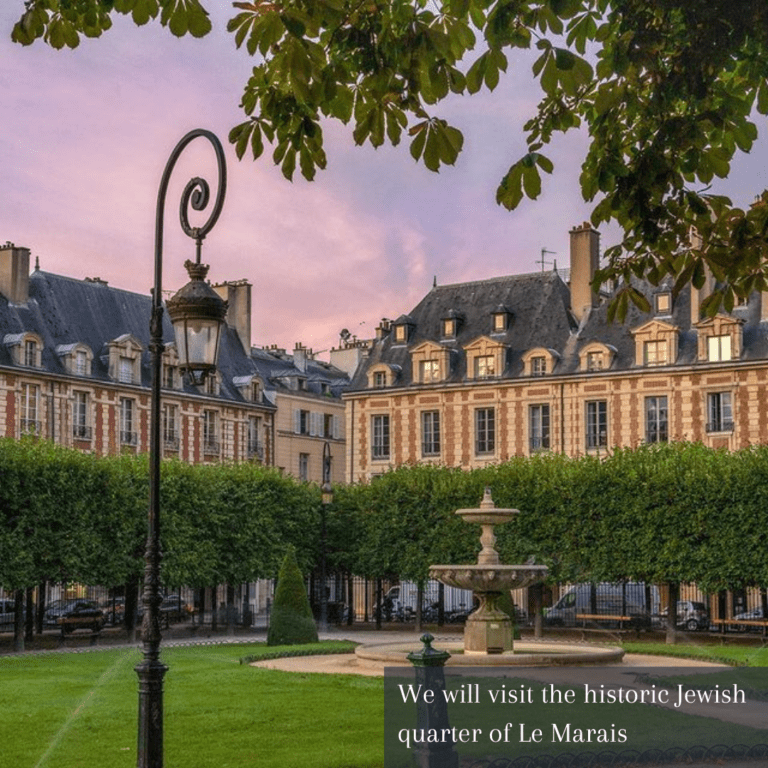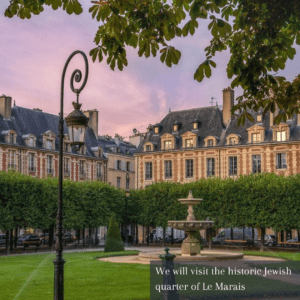 The old Latin Quarter + Islands of Paris:

The Notre Dame front

Gothic and stained glass churches

The Panthéon, The Sorbonne

Saint Michel and Saint Germain boulevards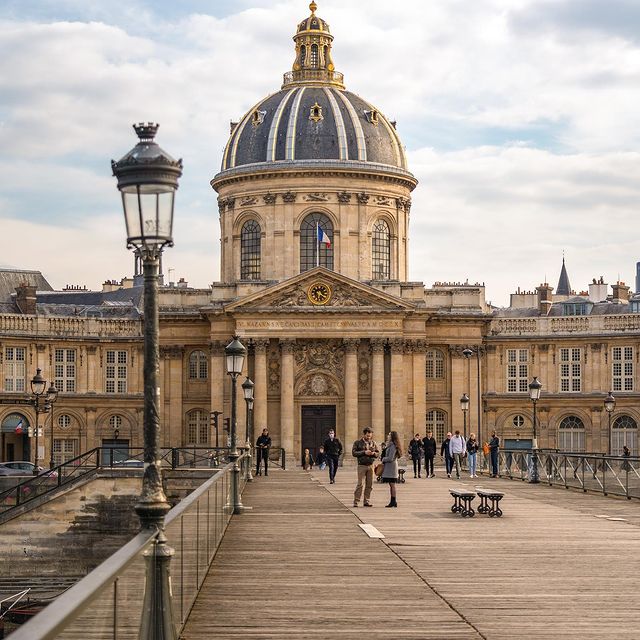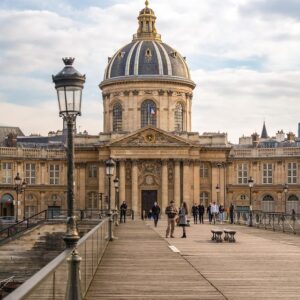 At the end of the tour
I will take you back to your hotel or to a restaurant depending on your wishes.
Your tour guide will give you some more recommendations for the rest of your stay ! 
At the end, the tour guide can stay with you if you wish. 
For the Paris car tour, a private guide is necessary to be able to hop on and off the car along the way for stops and pictures.
It is not allowed for your driver and car to stop and park in many areas in Paris, which is why you will be flexible with a private tour guide.
You also need a private tour guide to learn more about the history, about the city of Paris during our car tour Paris:
The guide can explain the History of every monument in the city, travel through many centuries, from the Roman's times, the middle ages, the French Revolution, WWII and until today.
You can discover the Highlights of Paris, its architecture and neighborhood,as well as its monuments, churches and museums.
With a private tour guide in Paris, you can decide to go inside a monument or to include a short visit inside of the museum at any time if you want.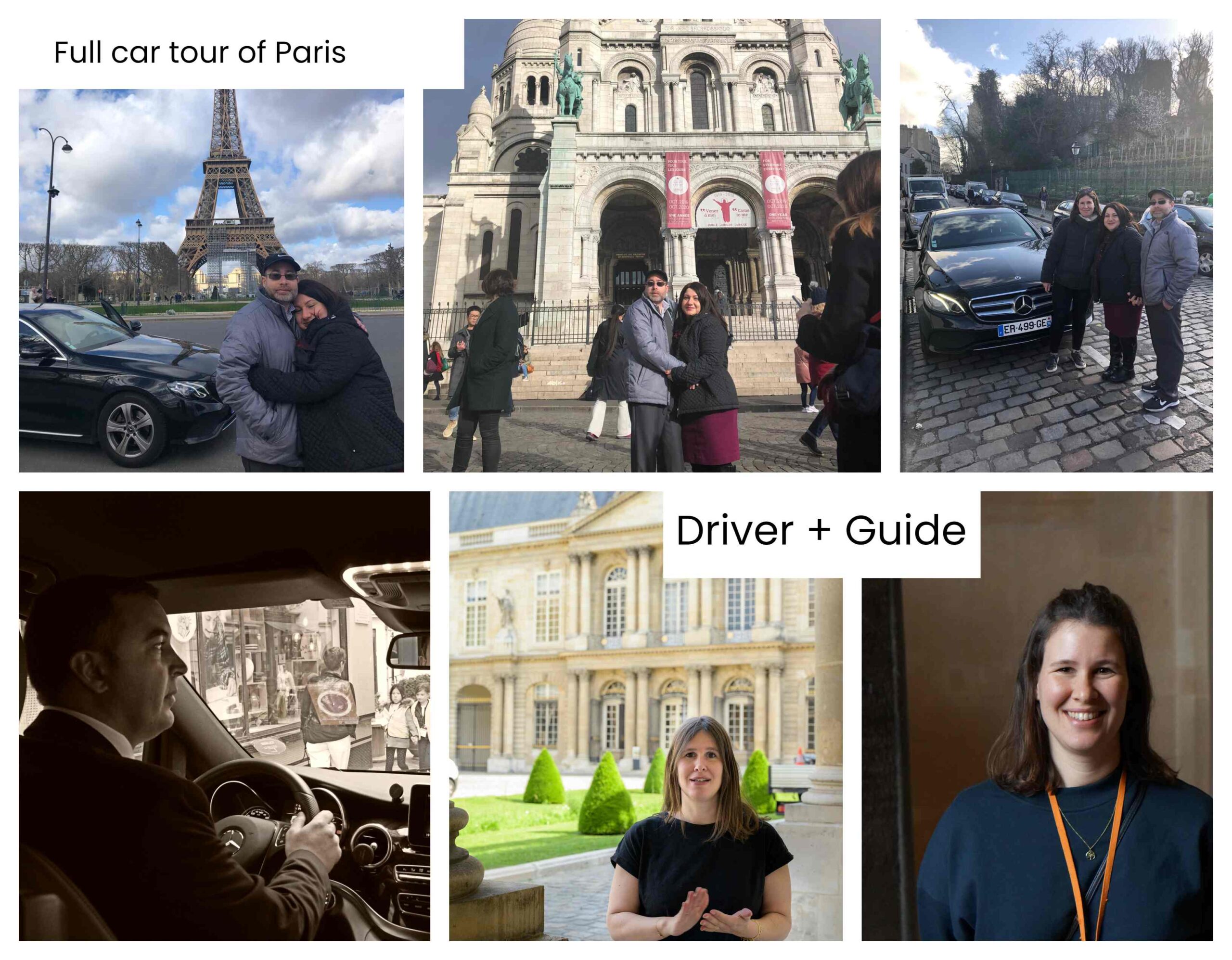 About hiring a Tour Guide in Paris for the City Tour:
I have worked with three of the best tour guides in Paris during my 20 years career in Paris. Feel free to ask me to help you to pick a freelancer tour guide in Paris.
If you need one of the top tour guides in Paris for 2022: a native Parisian, with a very good English accent, with serious qualifications in Art and History from the Sorbonne University? I recommend that you read the biography and profile of : Flora - Tour Guide Paris.
If you need a special tour guide for another specific need, send me an email and I will help you. I will send you some recommendation depending on your need and the availability of the tour guide.
I work with a great variety of tour guides, I can give you recommendations depending on the specialty: for the Louvre Highlights Tour, for the City Walking Tours, for the Versailles Tour, for Gourmet Tours and Opera Garnier or the Jewish tour...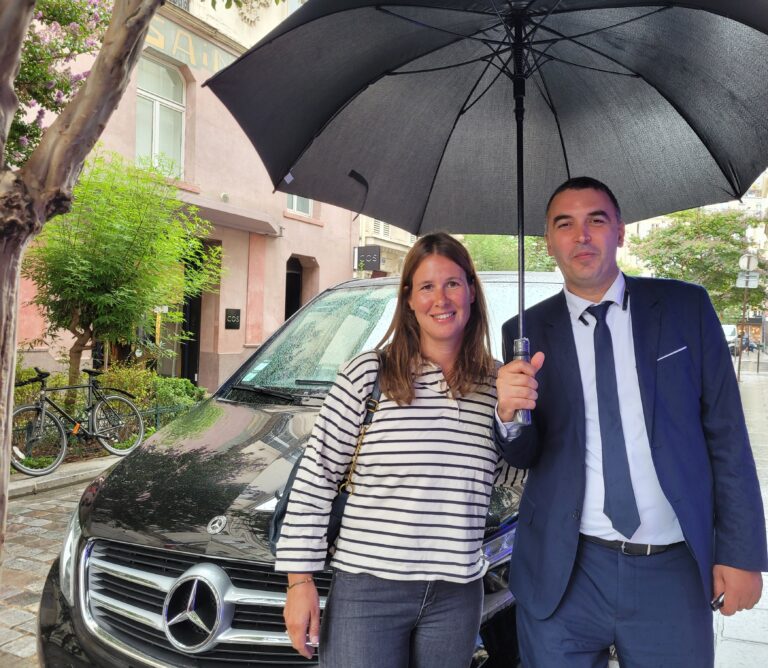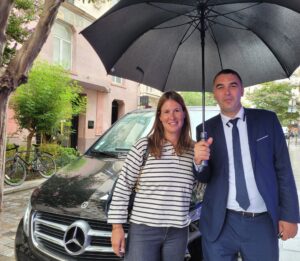 My Paris Chauffeur Service is possible with 3 cars.
Class V Van: Roomy and comfortable with 6 seats - Best for the car tour of Paris.
Mercedes Class S: Best for a romantic city tour - 2 seats
Mercedes Class E: Super Classy with 2 seats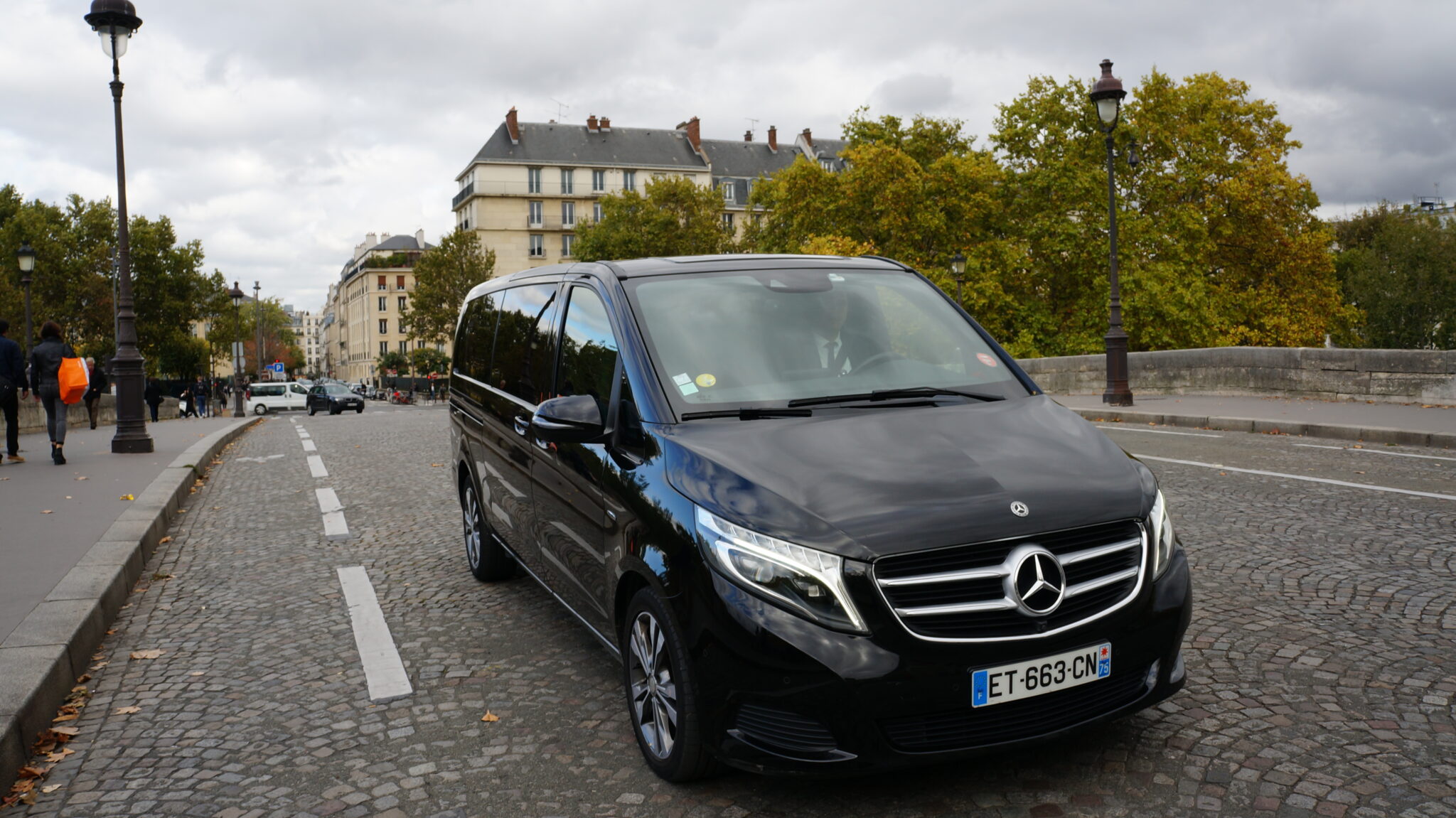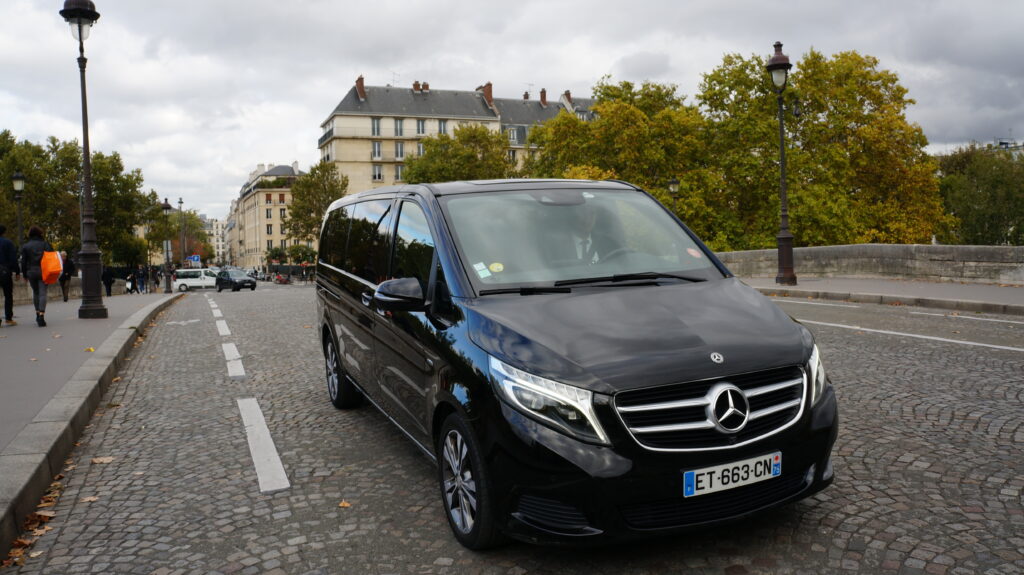 More options
Quick tour + driver = 2 hours
Classic tour + Driver + Tour Guide = 4 hours - See the musts of Paris
The Full day tour + Driver + Tour Guide = See everything + Get inside a museum + lunch + visit a church
Advantages
I offer you a complete city tour with an authentic chauffeur, native Parisian, trained for a quality driver service.
My car tour service is designed to be exclusive and private.
You will get what you see. Read my driver biography here.
I follow the city approved roadshow, with a serious tour guide service and courteous driver at your entire disposal.
I hold a VTC license and I am accredited by the city of Paris, to navigate the Historic center, to use the special Bus and Taxi lanes, to park and wait for you anywhere in the city center.
I offer the Mercedes-quality ride. Mercedes is one of the top German quality cars.
The seats are fully adjustable. The air is conditioned. You will be warm and safe.
The Mercedes engine is silent.
My driving is smooth. I am not on a hurry. I drive slowly so you can enjoy the view.
The car is roomy, panoramic, proofed, armored and safe.
The interior of my car is thoroughly clean and disinfected.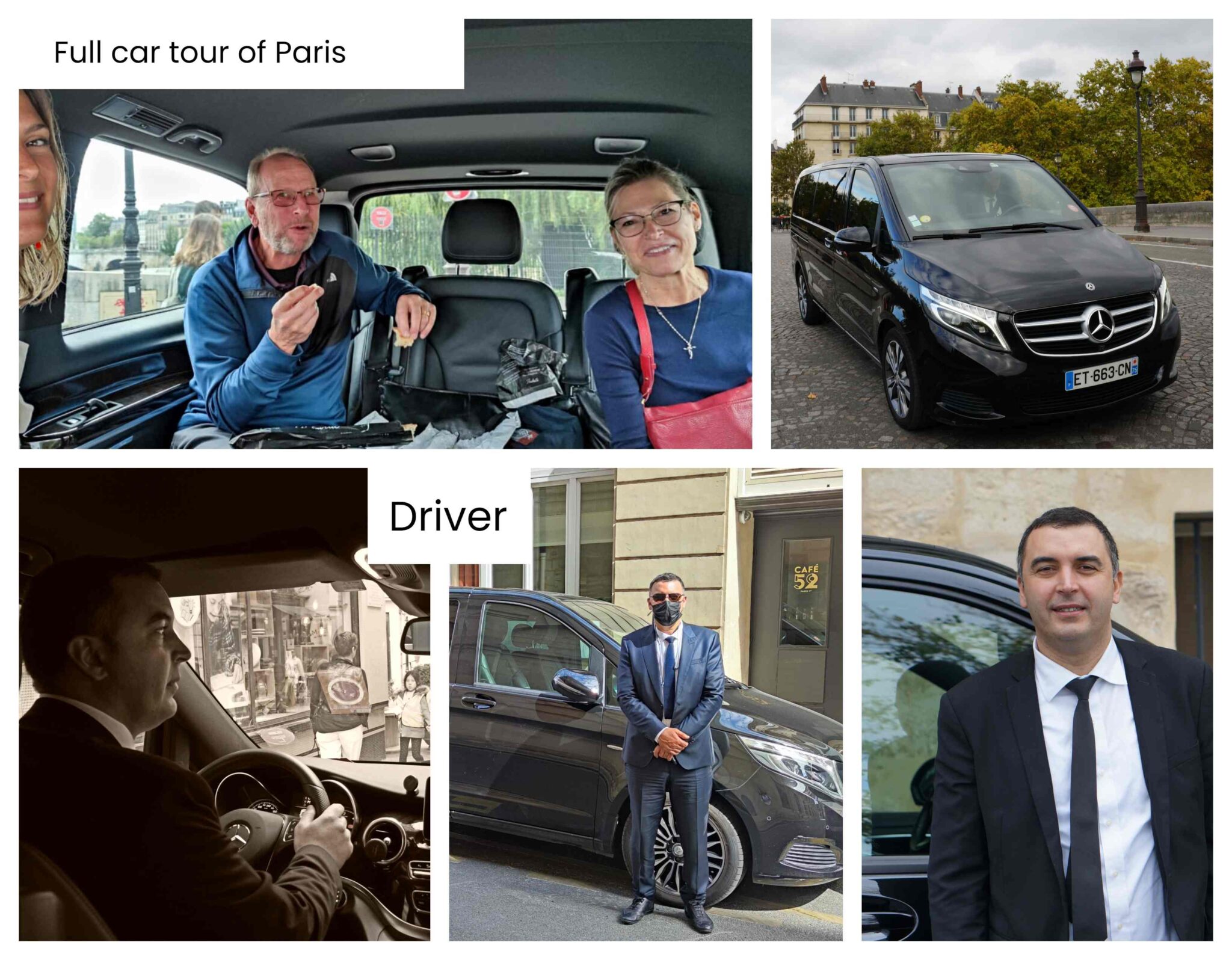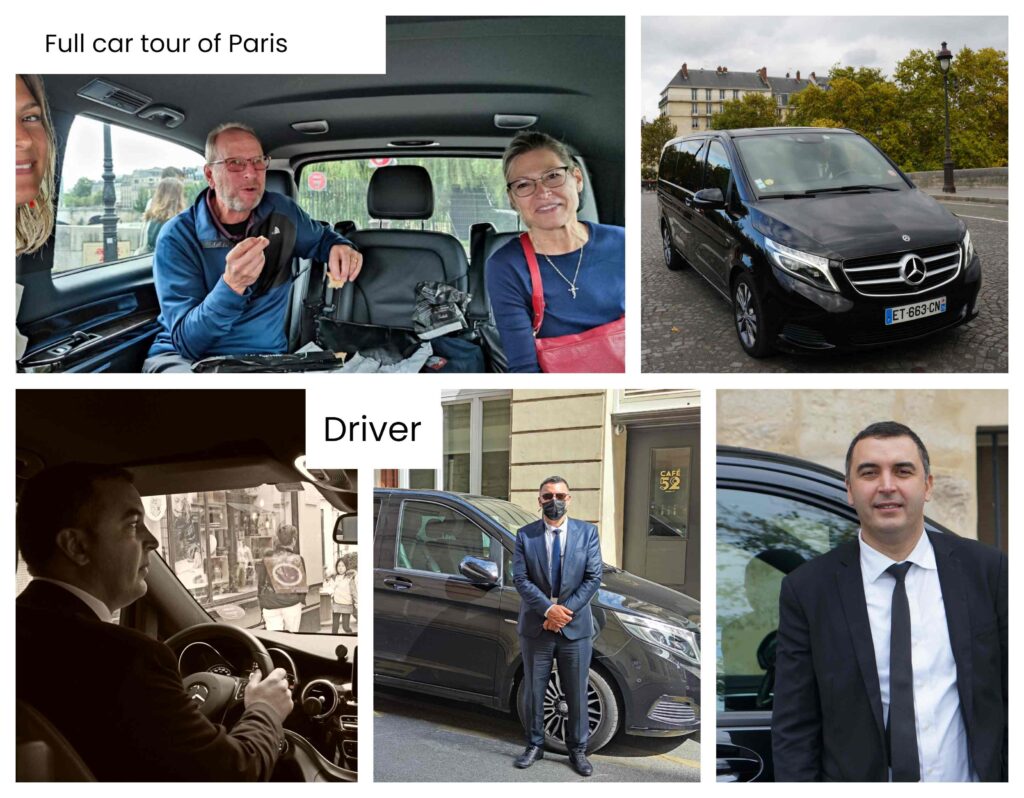 Ready to contact me?
You can follow the contact page button and find all my information to send me a text, an email or even call me via whatsapp. See you soon!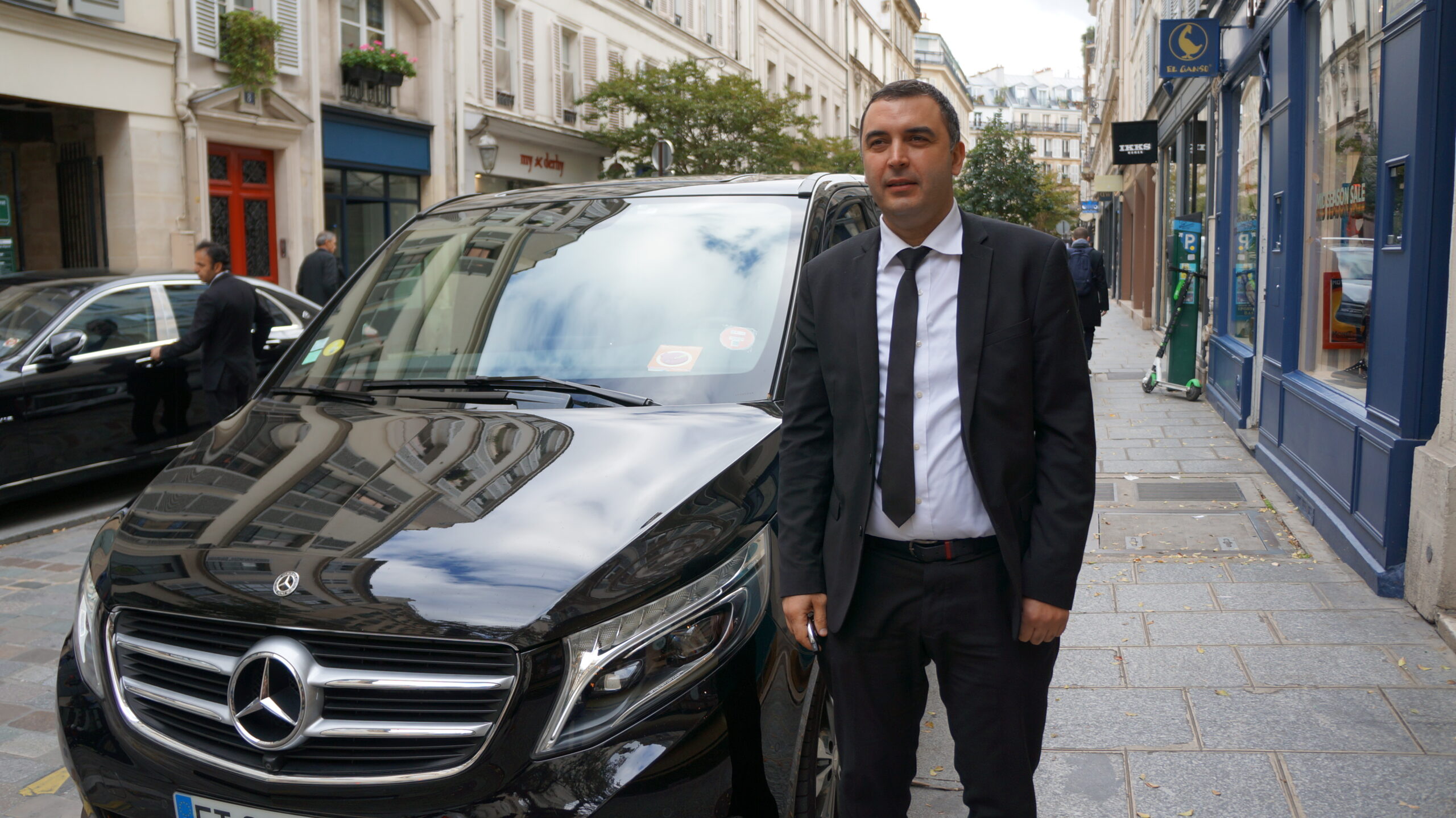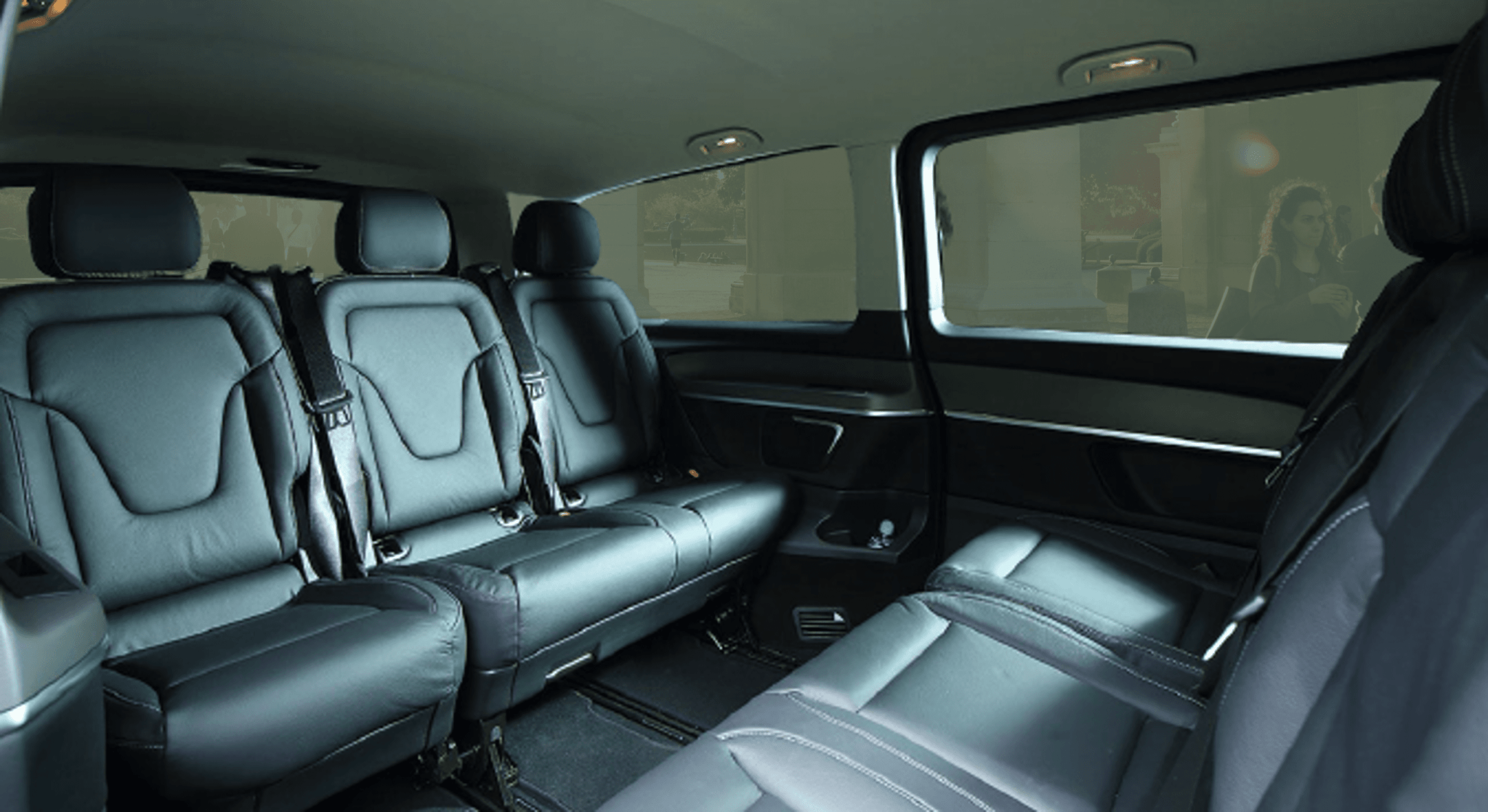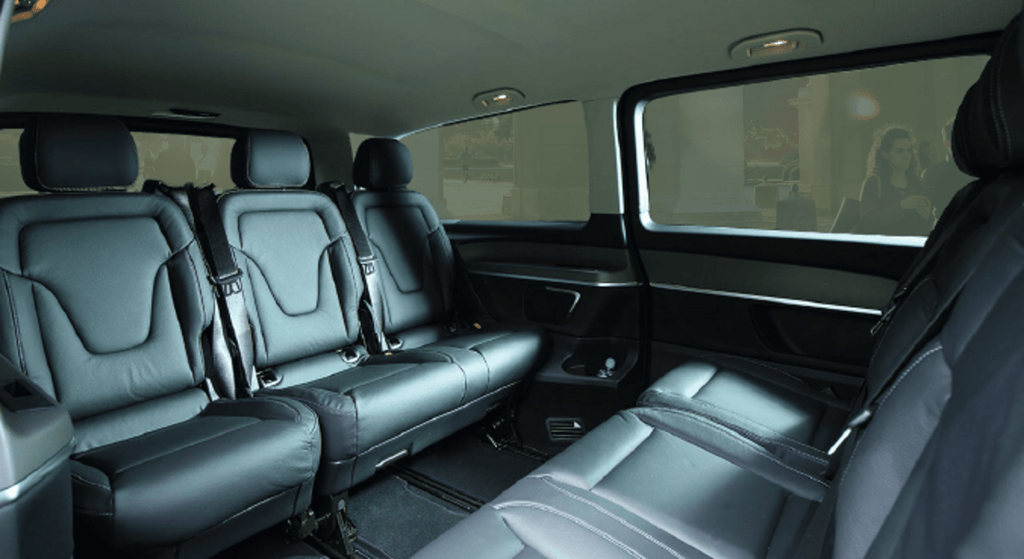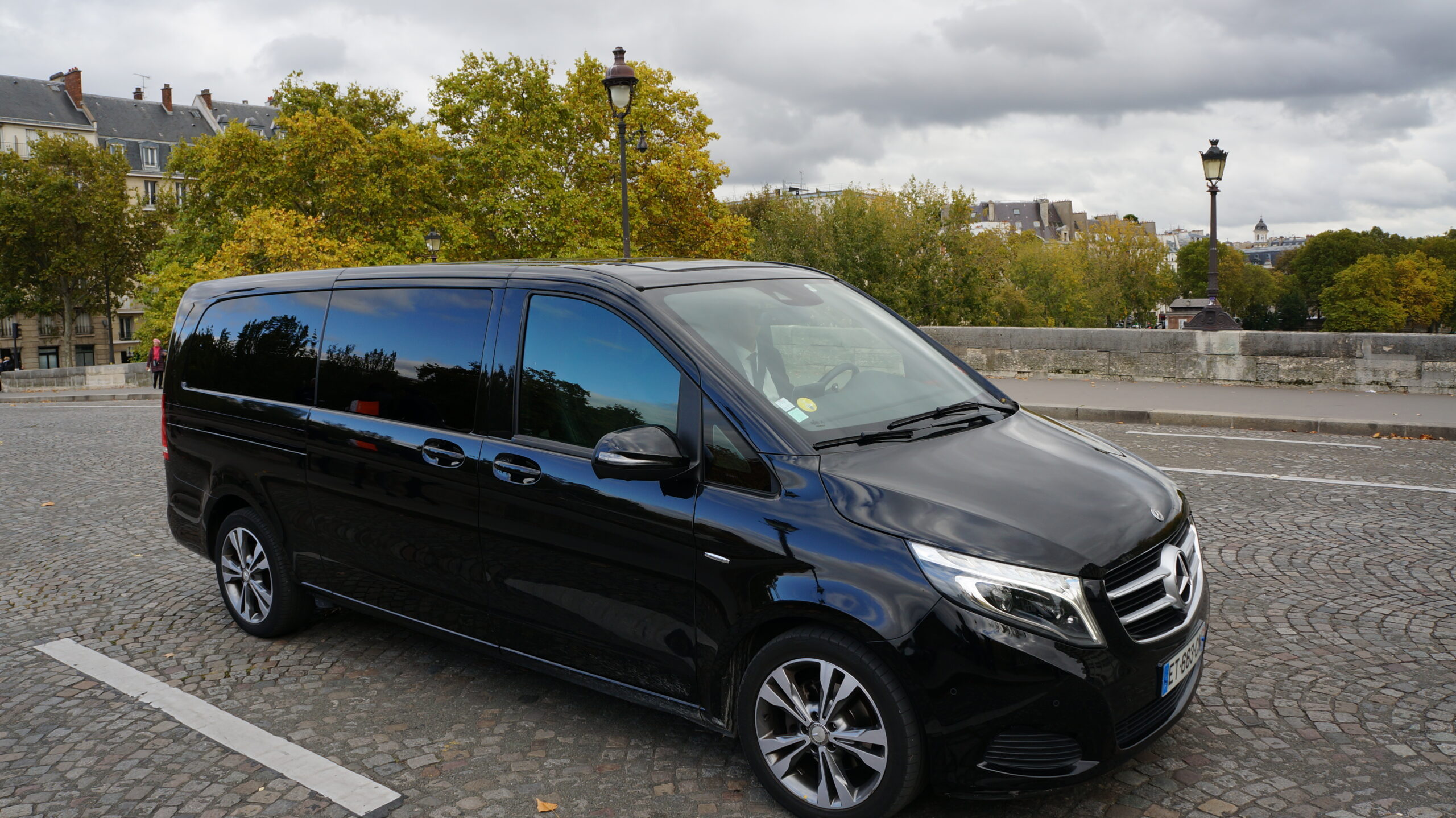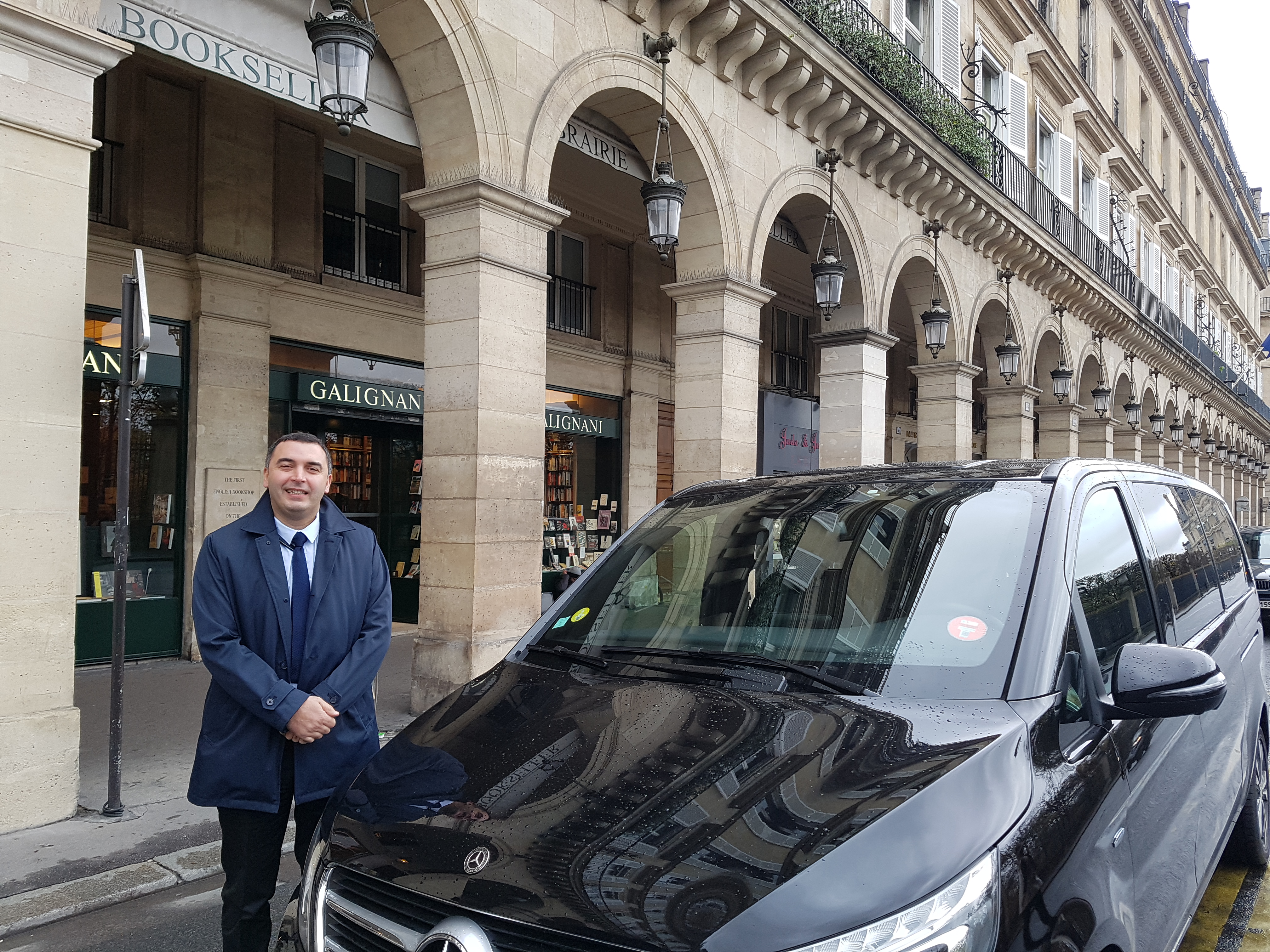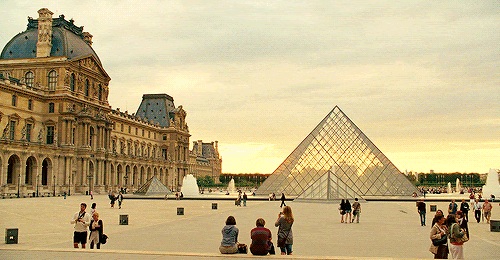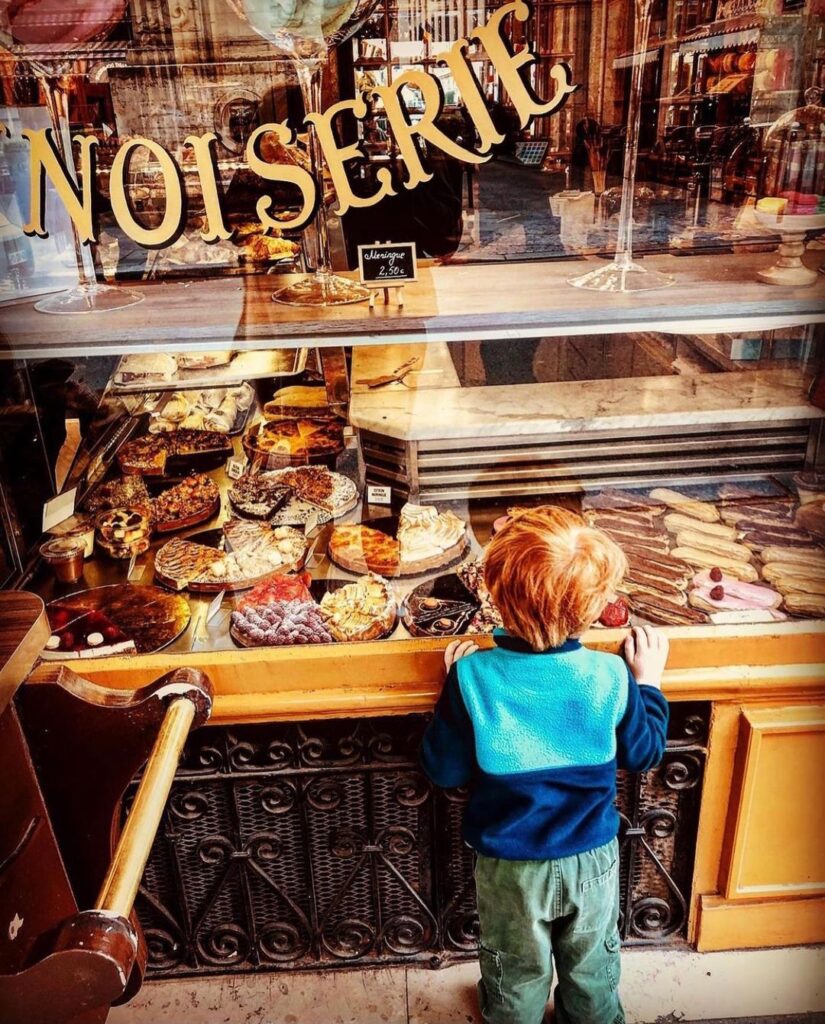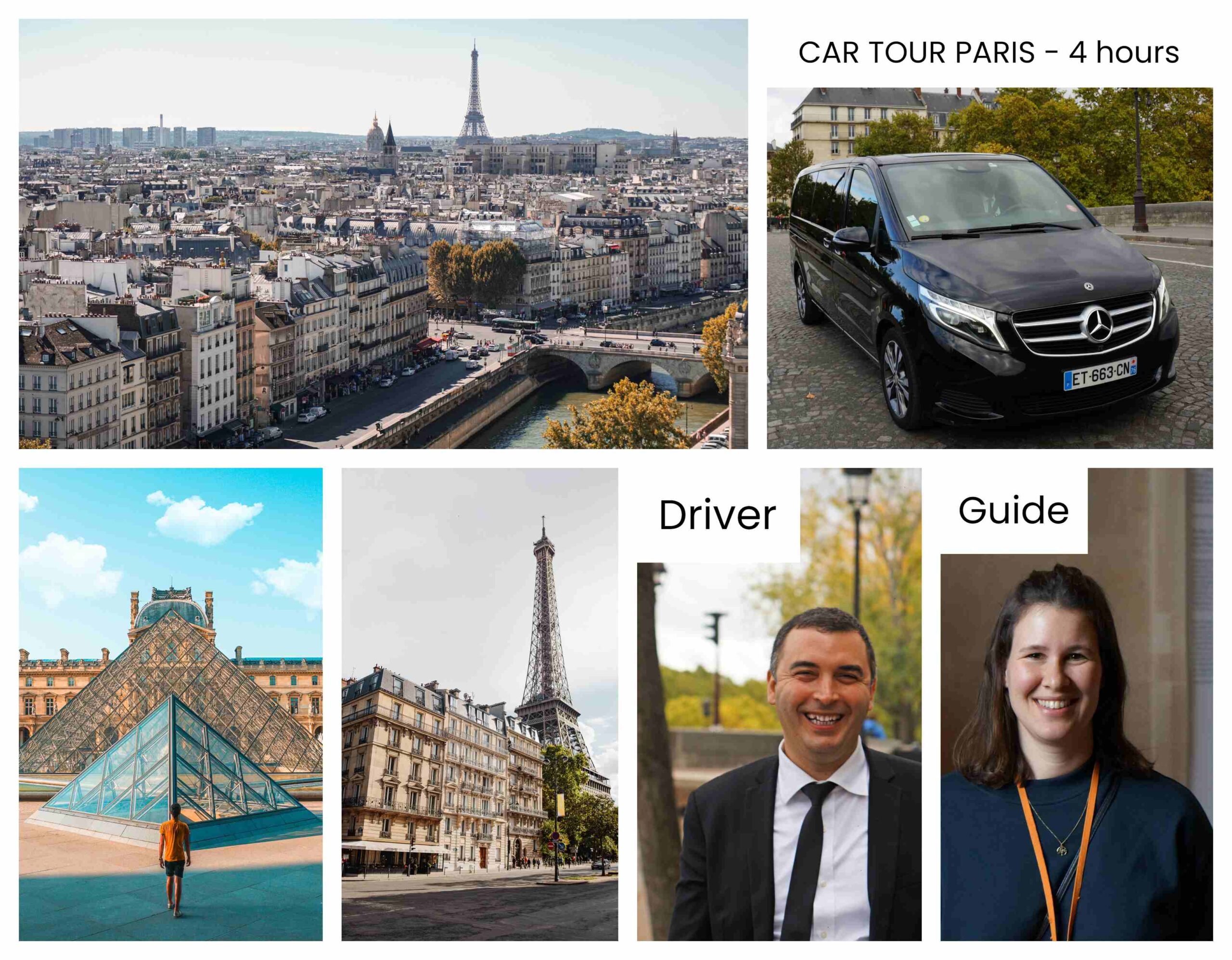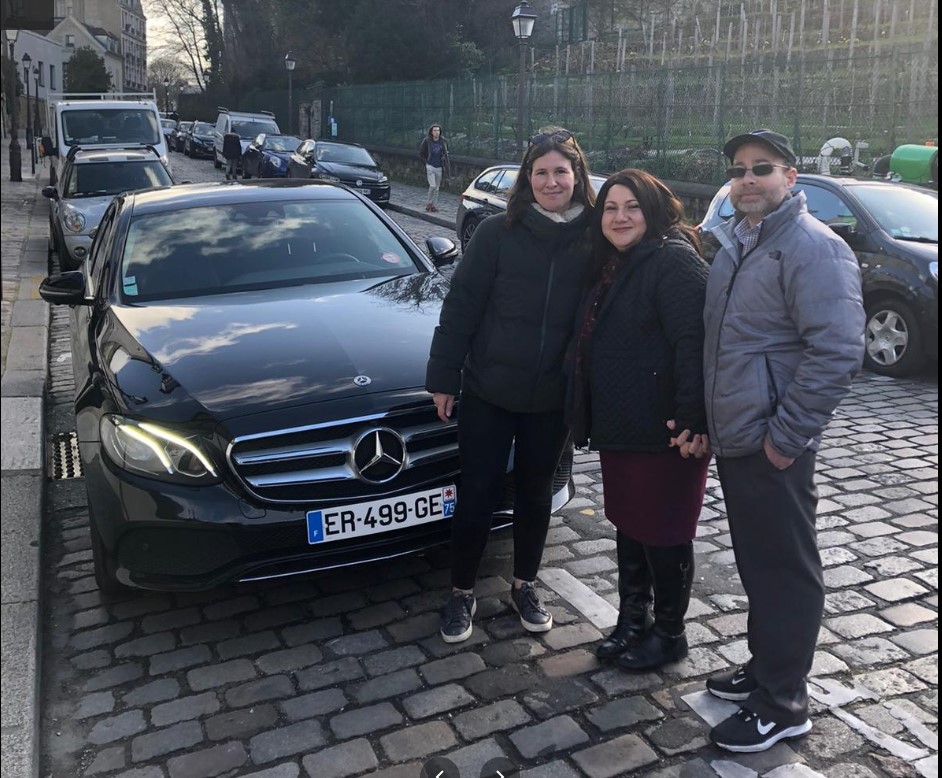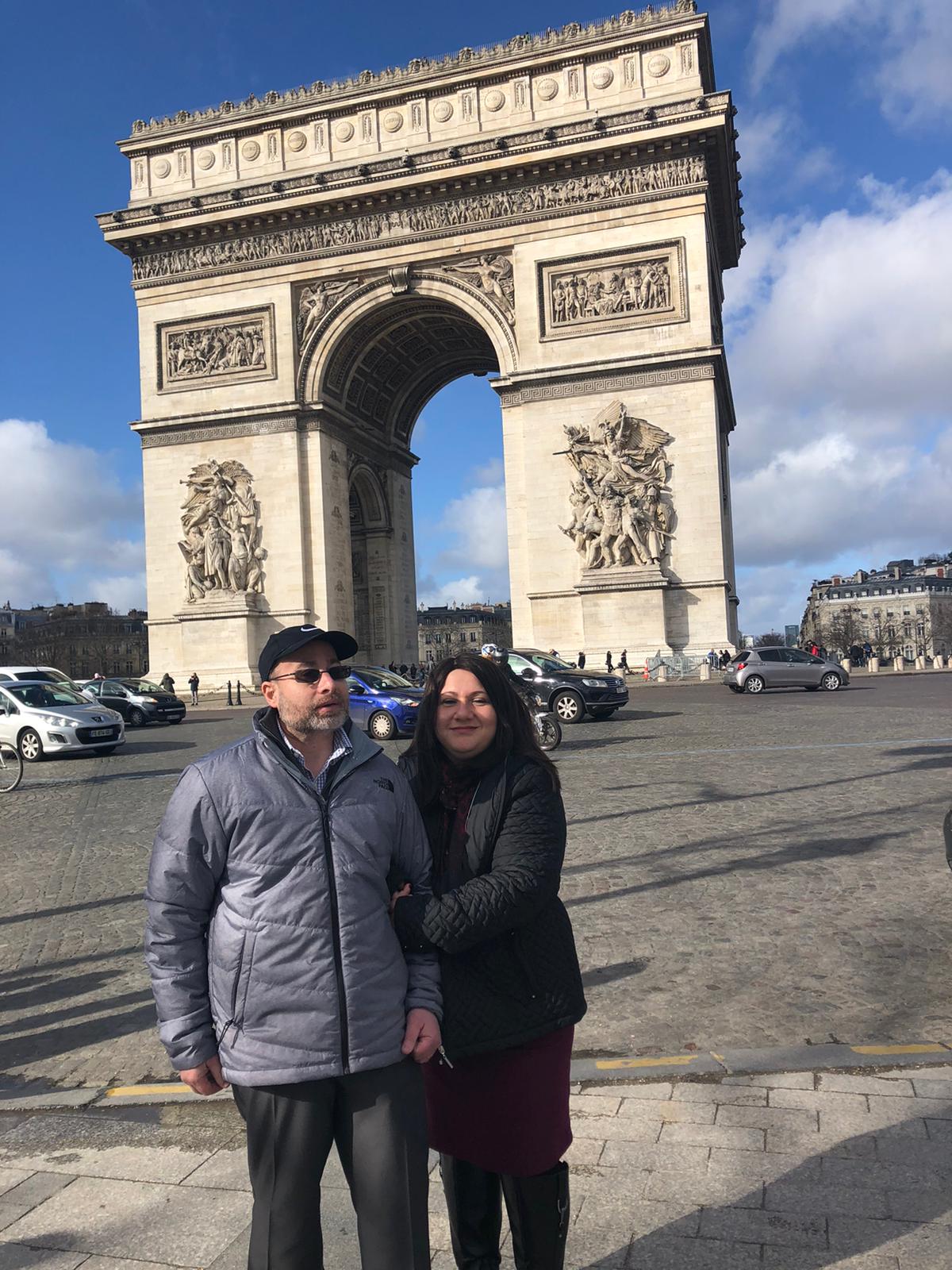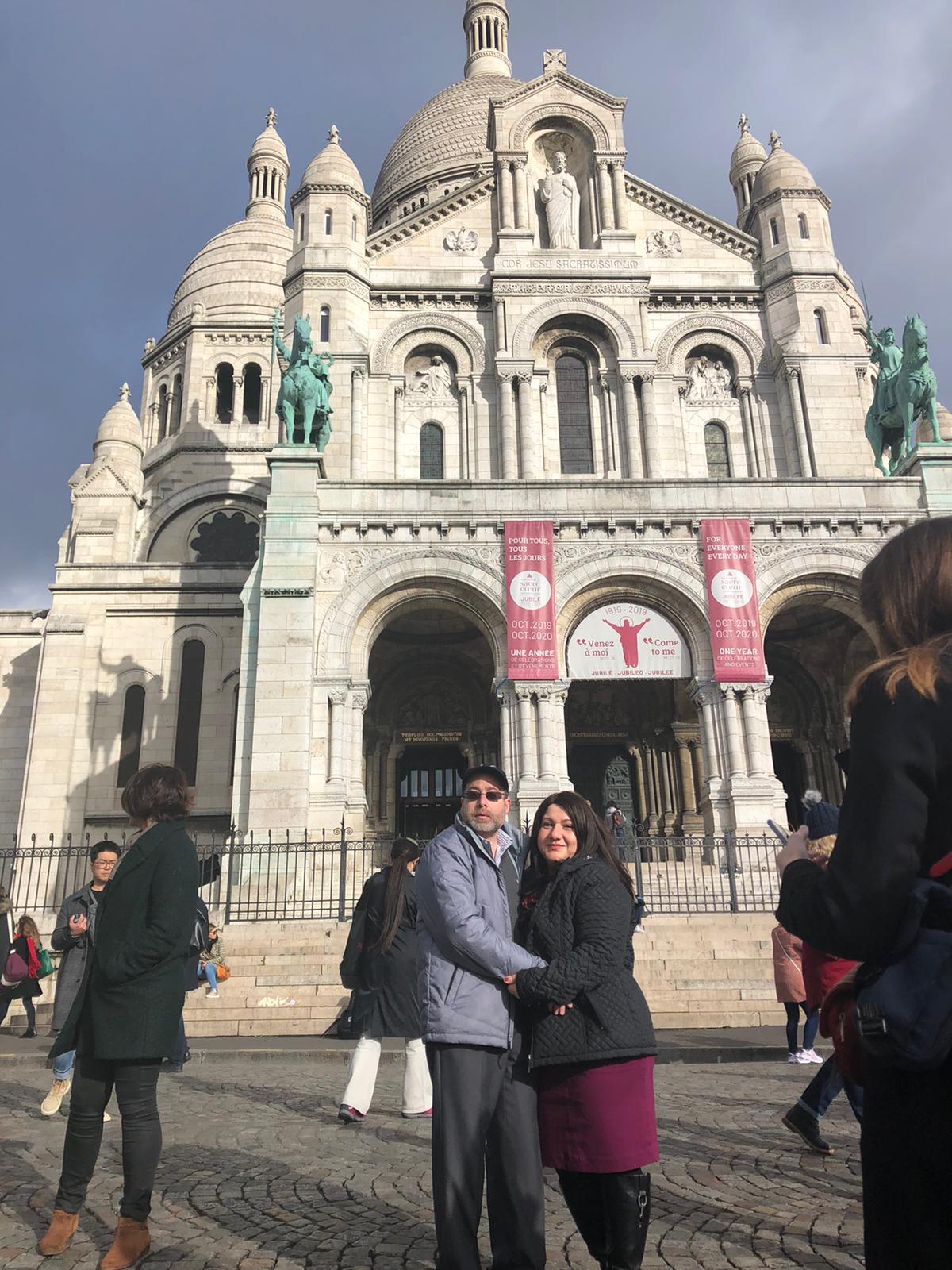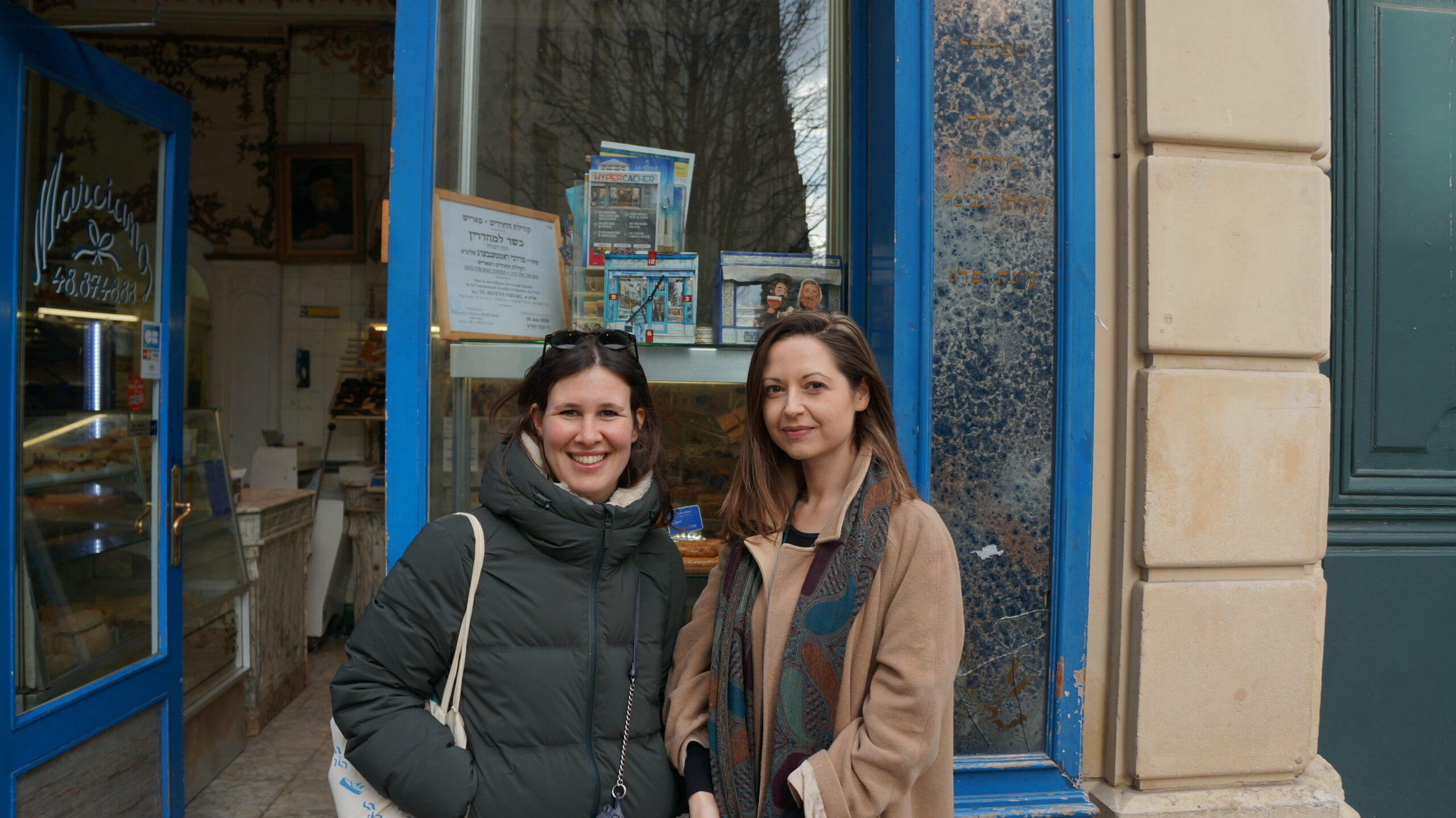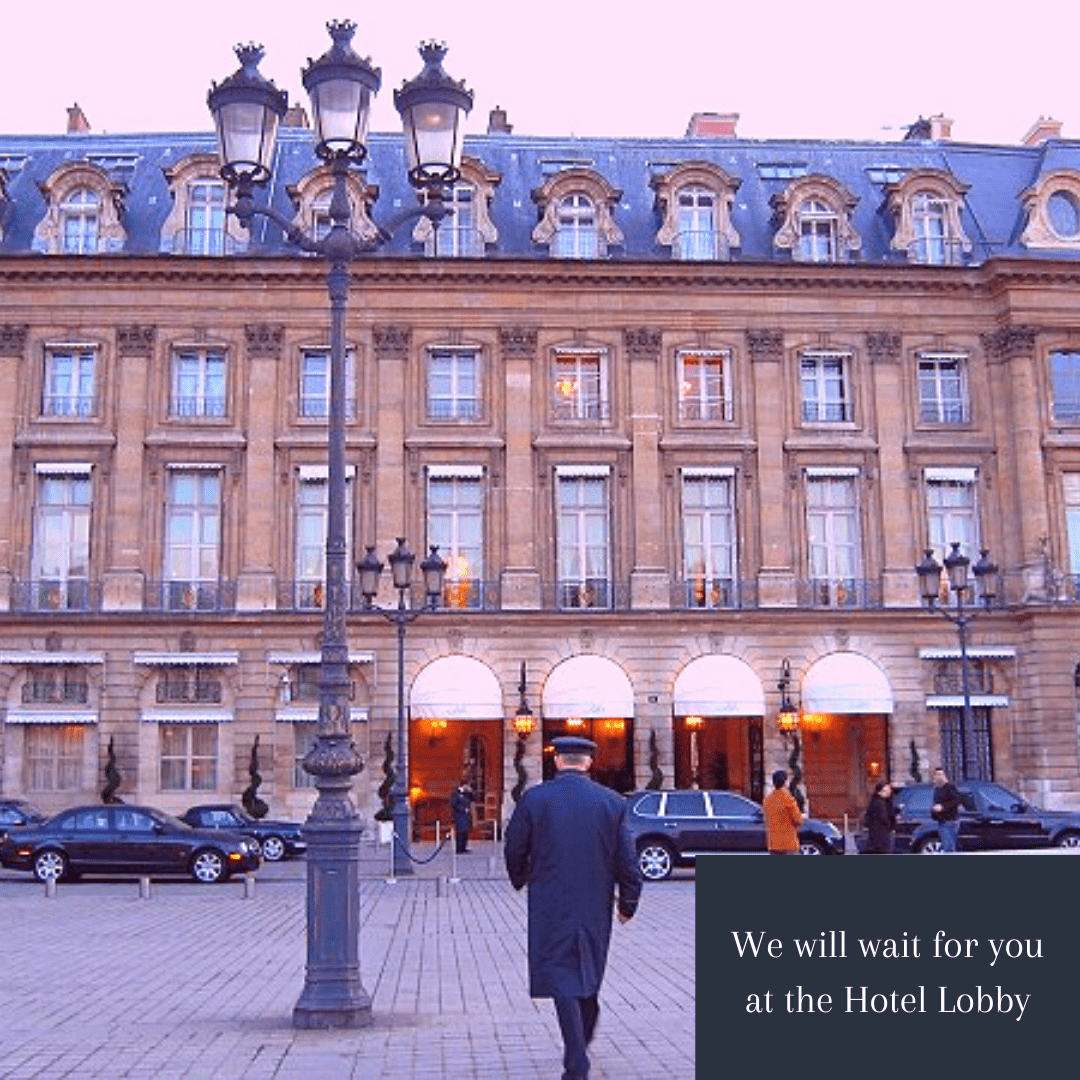 Slides of my Car Tour in Paris
Paris City Tour : Highlights (with Pictures)
How it started
The car tour of Paris was created by the Hotels of Paris to offer a warm welcome to Paris to their guest.
In 2005, a concierge of a Palace in Paris hired me for a 2-hours long car tour. The mission is show the clients all the highlights of Paris.
The idea of an orientation tour in a comfy car grew in maturity when we hire a tour guide to come with us.
Since then, we did not stop refining the itinerary and kept updating the circuit with our partners in Paris.
Today, we offer the complete car tour for all visitors.
The car tour duration can be 2 or 4 hours.
My ride is safe and pleasant.
You can enjoy the tour in a Mercedes Class V with extra leg room, for 6 people, best for a party of friends or a family.
The Mercedes Class V has 6 pivotal seats and big windows. An extra 7th seat at the front is booked for the Guide.
You can opt for the Mercedes Class S for only 2 people but more classy and for more elegant interior.
I drive very slowly during the city tour so you can enjoy more time looking at the beautiful monuments, the statues, the bridges, and even the people in the street and the houses of the city...
The classic city tour is better to be planned at the beginning of your stay: understand how Paris works, learn about its history and see what you might like in the city in order to come back and visit it more in-depth.
If you are interested in a special place or a landmark, you can ask me to stop and go inside.  A museum or a church? Go ahead with the Tour Guide, I will wait for you.
Feel free to take pictures of Paris, or ask me to take pictures of you.
It is also alright to take picture of me or the tour guide. We don't mind, we are at your service!
You can ask me to stop and to go to a pharmacy, a drugstore, or to do shopping, to eat, to have lunch... while I wait for you outside.
If you have any questions, please go to my contact page or send me an email to contact@limopremiumservices.com
29 reviews on
Peggy Casper
October 24, 2022.
An amazing gentleman! Spent 2 days with Sam as our driver. Could not have been more helpful, more knowledgeable and more accommodating. I could not recommend him more highly.
Rhonda Prokos
October 20, 2022.
Ok so do not look any further for a driver in Paris- Sam is your best choice! My family was traveling in Paris during October 2022 and we needed both transports to and from the Eurostar train station to our hotel and again as a driver for our private tour of Paris we booked. We are a family of 5 with 5 large suitcases and everything fit into Sam's vehicle. We are also lucky enough to be well traveled and have had drivers in many countries. I can honestly say Sam was the best driver we have had so far anywhere in the world. First, he is beyond reliable, trustworthy and easy to deal with. Second, he is a very considerate and kind person. On our return there was a train strike and he would not leave us until we let him know we were on the train. He was already strategizing what other options he could help us with if our train was cancelled. After the day we spent together on our Paris tour, my family felt as if they had a friend in Paris. I even texted him and asked questions while we were in Paris which he did not hesitate to answer. He also took us to a place where the croissant was voted best in Paris. OMG we still talk about it. This is your guy if you need a driver.
elinor astel
October 20, 2022.
מקסים ואדיב, יודע מקומות שווים ללכת אליהם גם לראות וגם לאכול. מדבר אנגלית מצויין. ממליצה מאוד!!
Rachael Martin
October 17, 2022.
Serge came and picked up my grandmother directly at her hotel. She thoroughly enjoyed all the stops including a café in Montmartre. She also really liked how comfortable the car was. I would recommend this service to anyone who speaks English or French and wants a personalized experience while visitng Paris!
hunter zeitlin
July 11, 2022.
We had a short layover and Sam and Joel helped us make the best of us. They picked up my wife and I and our 4 kids and made sure we can get in as much of Paris as our stopover allowed. They were great with us and our kids and would highly recommend them.
Arianna Levy
June 6, 2022.
Serge was our driver for a private tour and drop off to airport. Clean car, extremely friendly and knowledgeable, even stopped at a local bakery (after I said I was a bit hungry), walked in with me and guided me through the best items to choose from and helped me communicate with the gentleman behind the counter at the bakery. Worth every penny - highly recommend.
Jessica Cooke
June 4, 2022.
If it was possible to give a higher rating, I would do so without hesitation. We'd just arrived in Paris for the first time ever when our driver, Serge, picked us up and instantly put us at ease. He had curated a driving tour to specifically meet our needs and we had an amazing couple of hours driving around with him. He taught us all the essential terms, showed us everything we wanted to see, and didn't hesitate to answer any of our questions. Despite being jet-legged from the trip, he quickly had us laughing and having an amazing time. We actually ended up running into Serge again at the end of our trip and it was like running into an old friend. We will not hesitate to reach out to him again when we come back in the future!
Philip Drew
April 15, 2022.
Serge made our day in Paris as seamless as possible. We did not have to be concerned with getting around to key locations and given the fact our transport to Paris was almost 1 hour late this made so much difference. In combination with his colleague (tour guide) we really saw what made the highlights of Paris. Excellent value if time is tight. Philip, Sydney.
Mark Mukhtar
December 8, 2021.
My wife and I had the pleasure of having both Serge and Sam as drivers for the duration of our stay in Paris. Both were phenomenal. From the moment Serge picked us up at CDG to the moment he dropped us off at the end of our trip we were treated with top notch concierge services. Serge and Sam were professional, on time, very helpful with recommendations and a pleasure to be with. They had our itinerary before we arrived and made sure that all logistics worked according to our travel plans. There were a couple of occasions where they took it upon themselves to follow-up with the attraction to make sure we had contingency plans in place. Throughout the trip they made us feel as if we where THE client and not just a client. The trip to Paris was for our 25th anniversary so we wanted it to be special. Mission accomplished! It was an overall wonderful trip in large part to the service we received from Serge and Sam. Thank you both.
Flora Goldenberg
December 8, 2021.
I have worked with Sam Philippe as a private guide for 6 years now. We tour with our visitors in his comfortable and clean van. He is safe and professional for the city car tour of Paris. I really reccomend him as a driver guide in Paris