What to do if you have a Layover in Paris ?
Hello, my name is Sam and I am a professional driver in Paris with 20 years of experience.
I prepare customized itineraries for my clients visiting Paris for a short or a long duration.
Below, you will find a classic itinerary to help you get inspired with some of my favorite spots, romantic places, family friendly activities.
Feel free to borrow some of my suggestions, to bookmark me and come back if you need me.
See you soon !
Best regards,
Sam
Timing and Planning :
After landing, it can take up to 1 hour between immigration office, baggage deliverance, and to exit the airport Charle de Gaule or Orly Airport.
Depending on your arrival day and time : a week-day, rush hour, by night ... I will calculate the exact needed time to reach Paris center.
In general, it can take between 40 minutes and maximum 1h30 to arrive to the Paris Center.
To get the most of your time in the City of Lights, I will help you plan your tour and avoid the rush hours and waiting time to visit some monuments.
Special Notice : Travel under covid
As the travel reopened lately in Europe, following strict sanitary rules in Paris Airports, some of my clients who managed to come to Paris from USA and from Israel on Summer 2020, told me that they were obliged to take a quick nose test upon their arrival in the Airport CDG.
The health officers and border controls in Paris Airports will let you go after the covid test, if everything is ok, otherwise you will be confined in your hotel for 14 days.
Feel free to ask me by email your questions : limopremiumservices@gmail.com. I will be happy to help.
1 - Sam the driver will pick you up the Airport
I will come pick you up at the gates of the Airport with a sign with your name on it so you can find me.
I will need your flight number so I can wait for you at the right gates
Now, lets head to Paris center !
2 - See the Eiffel Tower
The Eiffel tower is located at the Center of the city of Paris.
Depending on the day, we will have time to wait in line, and go up the tower, and enjoy the amazing view of the city !
See Montmartre Sacré Coeur
Montmarte is a small picturesque village located on a hill in Paris.
Montmartre attracts a lot of visitors to discover the chucrch Sacré Coeur : the one you see up hill. The church is very beautiful, we can stop to get inside and take pictures.
Don't forget to meet the artists in the street, to buy some souvenirs, to walk in the narrow paved streets and get the feel of the bohemian romantic village.
I can wait for you in the parking lot, take your time and when you are done, we will go to the next spot.
See the Louvre
The museum of the Louvre on open only Wednesday to Monday from 9 AM - 6 PM with some exceptions by night ( Friday and Wednesday, the louvre stay open late)
We can see the Pyramid of the Louvre from the outside, take some istagrammable pictures.
You can also get inside the museum for a quick visit with a tour guide, depending on the time we have.
See Le Marais village and Place des Vosges
Le Marais is one of the oldest villages of Paris, located right in the center of the city, filled with trendy boutiques and restaurants, locals go to le Marais to relax, eat, take a walk.
You can visit the jewish neighborhood, I can show and introduce you inside some synagogues with a special tour guide.
See the Jewish Quarter of Paris
You can visit the jewish neighborhood in le Marais, I can show you some of the Jewish sites, the shoah memorial and introduce you inside some hidden synagogues with a local tour guide.
See the Latin Quarter
The Latin quarter was built by the Romans during the Roman Empire.
Now, it is the student quarter, famous for the Sorbonne University and Medicine Museum, Descartes University.
We will drive through the Haussmanian geometric and classical architecture of Paris.
You can hope off and hop in the car to take some pictures.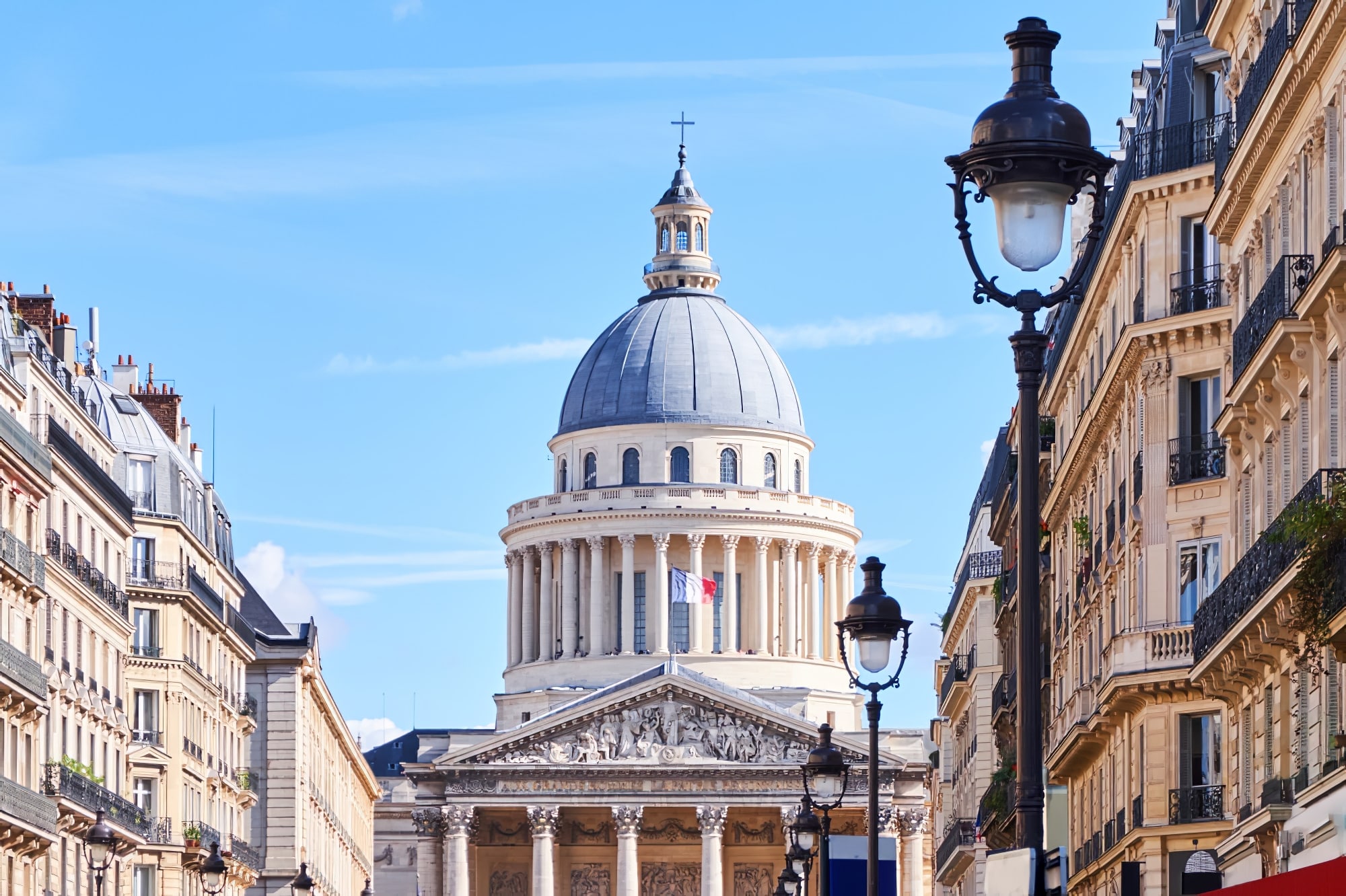 3 - Lunch Break at Angelina, Paris
After a long flight, my visitors often ask me to take a coffee, a croissant, a baguette or a big lunch break to taste the best foodies of the city.
So we try go to Angelina Restaurant on 226 Rue de Rivoli, where American celebrities often go, when they come to Paris.
(I can make the reservation for you // 0033 1 42 60 82 00)
Angelina is a famous chic restaurant with a long history of almost 120 years . At that time, the Austrian confectioner Anton Rumpelmayer arrived in the South of France where he opened several "Rumpelmayer" stores and acquired great notoriety. Driven by success, Rumpelmayer sets out to conquer the French capital.
In 1903, he founded with his son René, at 226 rue de Rivoli, an "Angelina" tea room in honor of his daughter-in-law, so named.
From the moment it opened, Angelina became the essential meeting place for the Parisian aristocracy.
In its salons, Proust, Coco Chanel and the greatest French fashion designers have come together…
who jostle there to come and taste the famous Mont-Blanc and the unforgettable hot chocolate called "L'Africain".
5 - The Arc de Triomphe
a Neoclassical take on the ancient Roman triumphal arch style, built by Napoleon, the Ex-Emperor of France. Napoleon ordered the construction of the Arc de Triomphe shortly after his victory at Austerlitz to show the Glory of his army to the Parisian, it was a clever way to get more budget and trust for his War.
4 - Maybe a quick shopping break at the Champs Elysées
Les Champs Elysées is a Famous Avenue in the world because it is the home of many prestigious boutiques and Restaurants, it is also where you see the French Military Parade and also where you see the protests.
You can visit Louis Vuitton Maison Champs Élysées, Chanel , Dolce & Gabbana ,  Fouquet's Paris and many other famous shops and restaurants ...
7 - Cleopatra Needle in Paris
There are many cleopatra's Needles in the major cities of the Wrold : We saw one in New York, Londonc City, Paris ... they All come from one ancient civilization : The Ancient Egypt. During the colonization of Africa by the powerful nations of Europe in the 19th century, Europe decided to protect the most valuable pieces of Art made the humanity in the ancient time.
It is famed as Luxor Obelisk and is erected in the 19th century in Place de la Concorde , by the efforts of human chain and horses !
The obelisk is decorated with hieroglyphs exalting the reign of the pharaoh Ramesses II
In 1998 the government of France added a goldleafed pyramid cap to the top of the obelisk. The obelisk is flanked by two fountains constructed at the time of its erection on the Place.
6 - Bridge of Alexander III
We will also see the most beautiful bridge of Paris and maybe one of the most beautiful bridges on earth : it is classed as a historic monument, because of its gorgeous architecture and popular location. The winged golden horses Arts, Sciences, Commerce and Industry. Is it real Gold ? We will discover that on our own once you are in Paris !
Questions about your Layover in Paris ?
You can ask me here about Paris Layover Tour : please precise how many passengers and how many hours you will spend in Paris!
8 - If we have more time
A- Fresh French Cuisine
I like to go to Rue du Faubourg-Saint-Deniss, a popular spot for locals and many "Bobos", the Trendy young stylish Parisians who eat fresh and organic food.
B - Some good mentions :
We can eat at le 52, a very good restaurant where the menu changes often and is based on ingredients that are in season at the time.
LE 52 - CAFÉ RESTAURANT
MENU : Average price of lunch per person : 30 euro 
52 RUE DU FBG SAINT DENIS
75010 PARIS
Le Jules Verne restaurant in the Eiffel Tower where World Leaders dine together.
Very expensive, but, If it's typical French High Cuisine that you're looking for, this is the spot.
At 400 feet above the streets of Paris, you're guaranteed to be equally wowed by the views and the triple-Michelin starred food. Booking is recommended in advance as weekend dinner bookings are usually hard to find less than four weeks in advance.
I have worked with the nicest tour guides in Paris during my 20 years of career as a Driver in Paris.
Ask me by email if you need one of the top tour guides and I will send you some recommendation depending on your need and the specialty of the tour guide.
The tour guides I know are very good for the Louvre Highlights Tour, City walking Tours, Versailles Palace Tour, Normandy.
One of the best articulate and knowledgeable about the Louvre is the tour guide Emma Durant for an amazing Louvre Guided tour.
For the Jewish Paris and le Marais, Flora Goldenberg is by far the answer to your need !
12 - More Layover ideas in Paris
Go to Montmartre and try All Good Things it is the French brunch and it is filling like an American Brunch, this brunch will surely get us up for a good energy for a sightseeing day. We can have hot drinks, fresh orange juice, a starter, main course and desserts
Du Pain et des Idées is a true 19th Parisian Bakery, where you can eat their famous Snail Bread. However this spot is not open on weekends.
A walk in the beautiful and historic Le Marais Neighborhood to see the Jewish neighborhood, or to do some shopping in its small boutiques.
Saint Germain neighborhood is just a classically Parisian neighborhood ! You will see the origins of the city and its architecture, you will find some emblematic cafés and french brasseries, art galleries, atmospheric restaurants and also museums... all together in the same small quarter !
You must visit the small markets at Mabillon or go the other way and enjoy "Le bon Marché" like a real Local Parisian.
Le bon Marché" is a big fancy historic store located in 24, rue de Sèvres, 75007 Paris where you can buy all finer things Made In France and bring it back home with you.
Do you want a driver to help you during the layover in Paris ?
I hope I helped you get inspired. I can provide you with a safe transportation and  a comfortable tour.
Contact me here and I will answer you soon !
Sanitary Guidelines and Safety
Paris is very safe for visits :
The French Government secured the city of Paris and opened all its Bars, Cafés, Restaurants, Trains and all the transports are working perfectly with the respect of wearing mask everywhere.
We will wear masks, we need to wash our hands or use disinfectant, we will respect the safety distances
I will give you a mask if you need one but wearing a mask is mandatory in my car
I always clean my cars before and after each transfer
I also disinfect all the knobs and seats thoroughly.
Landing in Orly or Charles de Gaulle ?
First of all, it makes no big difference for you, that you land in Orly Airport or in Charles de Gaulle, as both airports are nearly at the same distance from Paris which is between 1h to 1H30 from Landing.
To be at Time for your Departure, we need to leave Paris and head for the airport 3 hours before the flight.
I would need the flight number to help efficiently : Prepare the itinerary and look for opening hours, calculate the time to see the most of Paris beautiful sites !