Driver for Paris Layover Tour
Hello,
My name is Sam. I am a Personal Driver in Paris. You can book me by day and by night.
Are you looking for a nice program for a Paris Layover Tour?
Thanks to my experience as a personal driver, I composed and refined the classic itinerary for the passengers visiting Paris, for a short duration.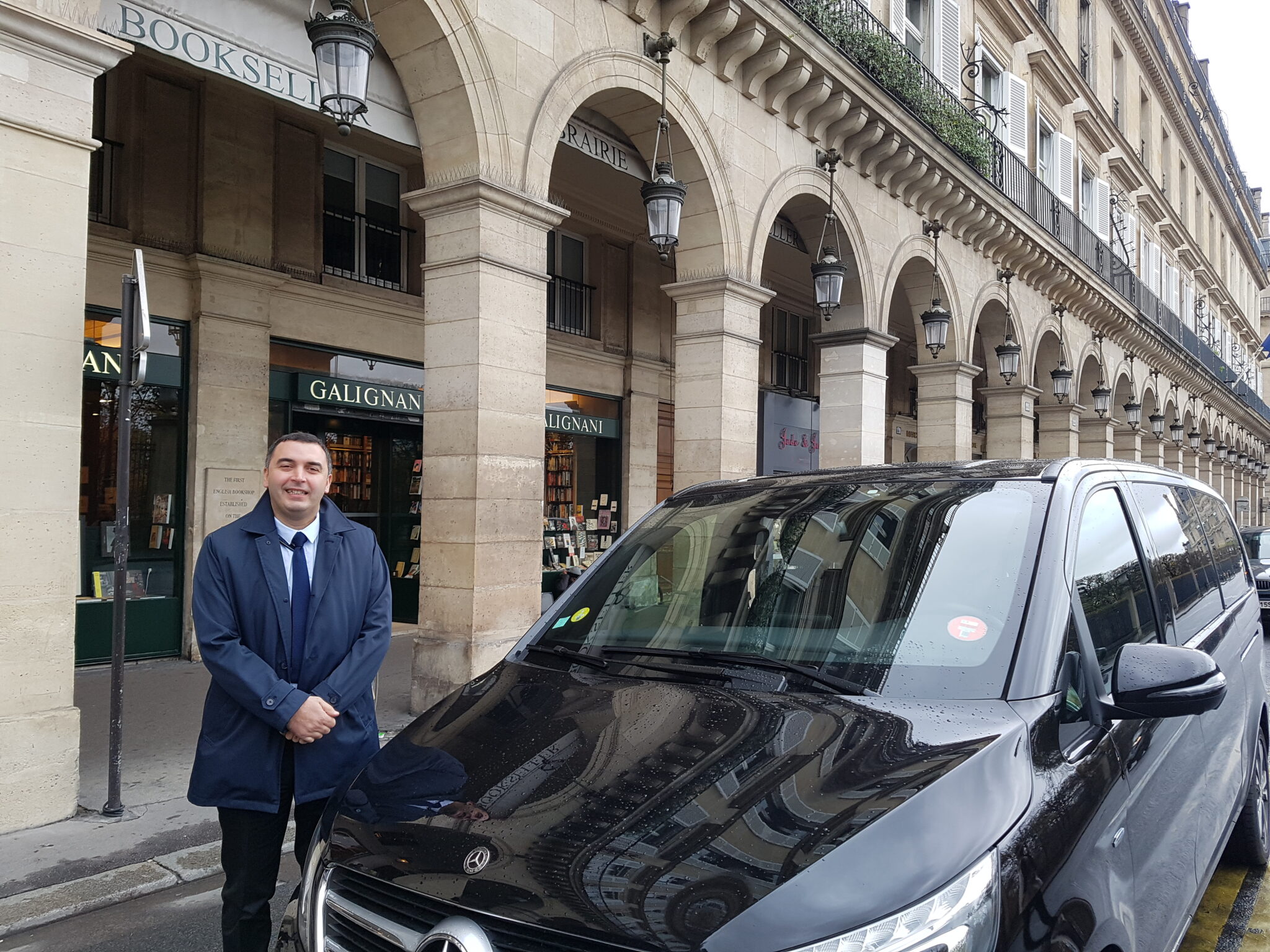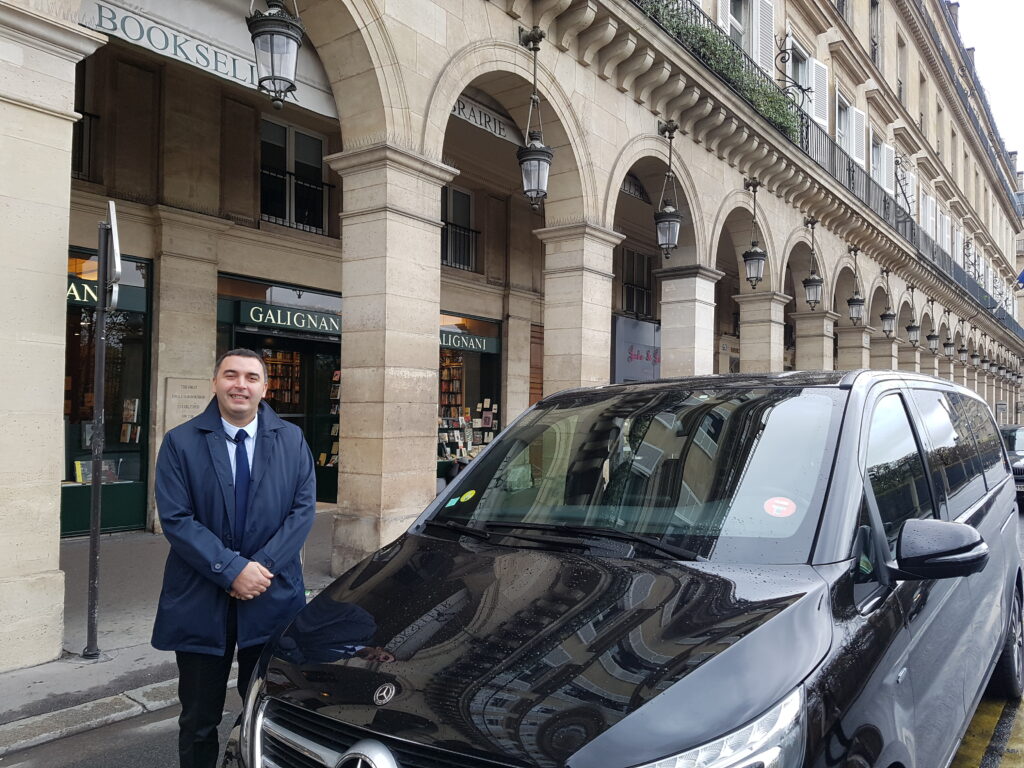 What to do if you have a Layover in Paris:
Here, you will find many ideas and steps to see what awaits for you in Paris.
My classic circuit can be done between 4 hours to 6 hours Layover in Paris.
I will present to you the must-see places of Paris.
For the Layover tour, I advise you to pick a small selection of these spots and not try to do everything (even though it is tempting...)
I included some of the Romantic places, spots to take instagram pictures and family-friendly activities.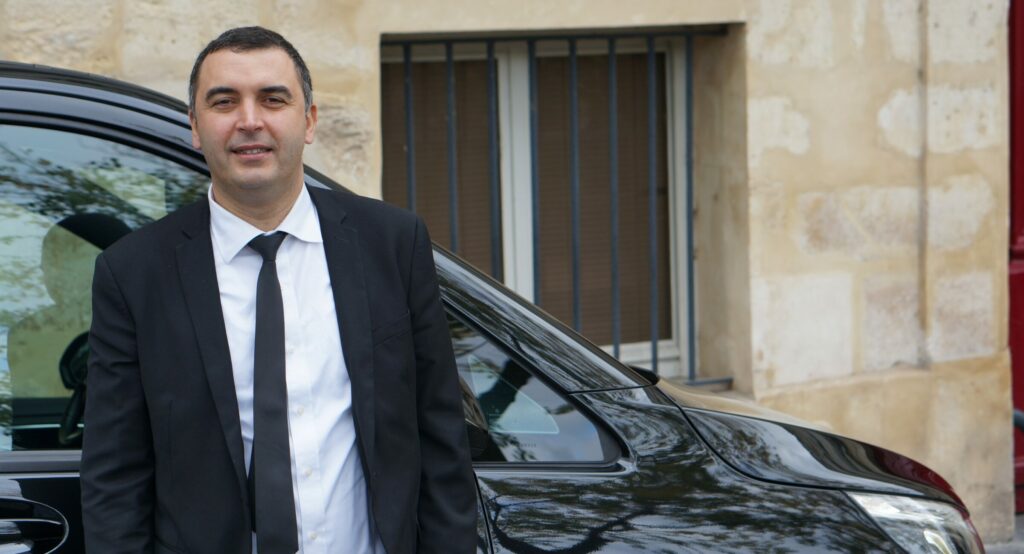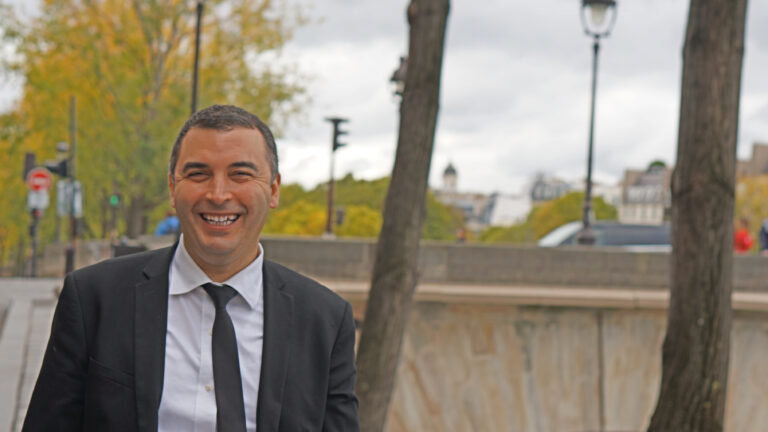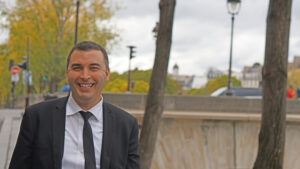 1 - Pick up at Paris Airport
I wait for you inside the Paris airport CDG or Orly.
I pick you up at the arrival gates of the Paris Airport with a sign.
--> This is a picture of me SAM. I will also ask you for your flight number in advance so I can wait for you at the right gates, at the right time.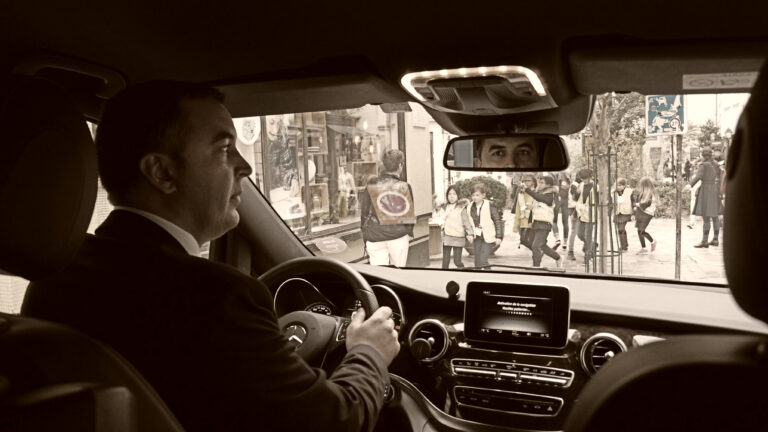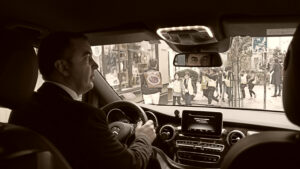 I am very punctual. I am always on time because I value your precious time in Paris. I will be holding a sign so we can find each other and take your phone number just in case.
Now. Once you are with me, you can enjoy some peace of mind. I will take care of everything for you. Take the load off and let me take care of the luggage, the shopping bags, the stroller.
Enjoy the free internet in my car. Enjoy my refreshments in the car, tell me about your flight, connect your favorite music to the sound system or borrow one of my magazines and books to read about Paris Secrets in the car, while we head to Paris old center.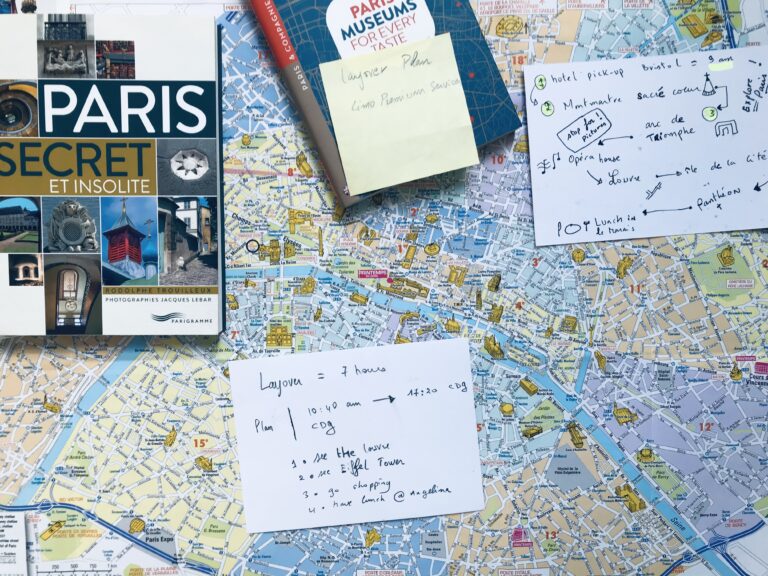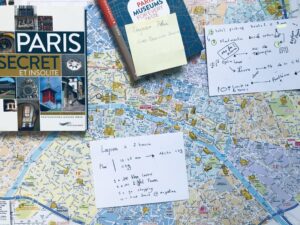 Planning the perfect layover
Timing is important.
After landing, it can take up to 1 hour between the French immigration office, the baggage deliverance and to exit the airport.
Depending on your arrival day and time: a week-day, a rush hour, or by night... I will calculate the exact needed time for us to reach Paris center using my GPS and my App.
Then, it can take between 40 minutes and maximum 1h20 to arrive to the Paris Center.
Once we are in Paris center, you can start enjoying the view during the Paris layover tour.
2 - See the Eiffel Tower
I like to begin my tours by the Eiffel tower which is located at the Center of the city of Paris, next to the Seine river.
The Eiffel tower has been built by Gustave Eiffel in 1889 as a showcase of France industrial prowess during the universal fair. People came to see it from allover the globe. The tower used to be red until they painted it in grey to fit Paris rooftops color.
Depending on the day, if we have time to wait in line, and go up the tower, we will enjoy the amazing view of the city from the second floor or the third floor: 300 meters up (or shall I say: 1000 feet of altitude.)
The other possibility is to take a picture in front of the Tower without taking the time to go up. It is fine too.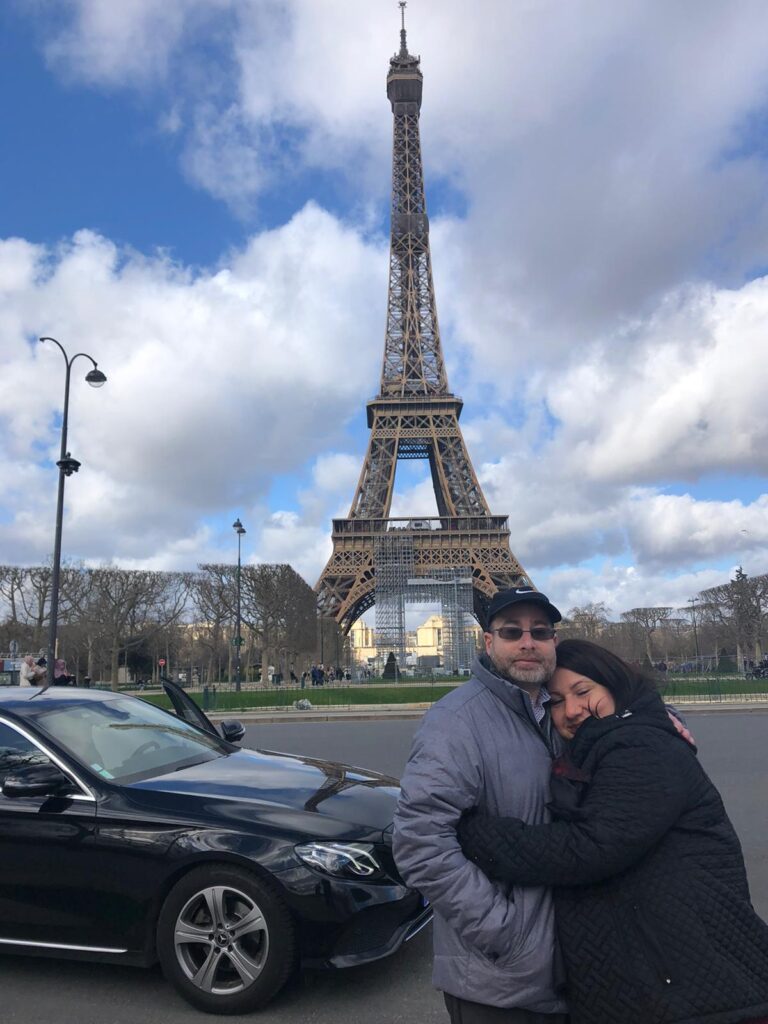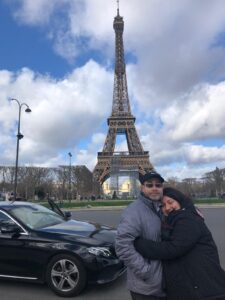 3 - See Montmartre Sacré Coeur
Montmarte is a small picturesque village located on a hill in Paris.
Montmartre attracts visitors to discover the church Sacré Coeur known for its beautiful stained glass colors and unrealistic hall: this is the one church that we need to visit. It also has a great view from uphill over Paris.
The church is very beautiful: you can get inside and take pictures, inside and outside, while I wait for you at the parking lot.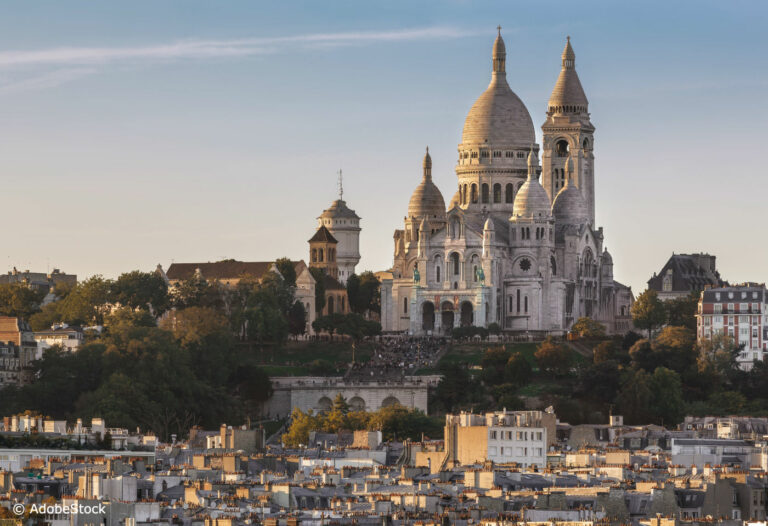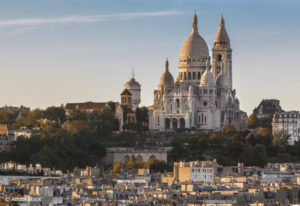 On the way out, you will see the french artists in the street, you can buy some souvenirs, or walk the narrow cobbled streets of the village and get the feel of the bohemian romantic Paris.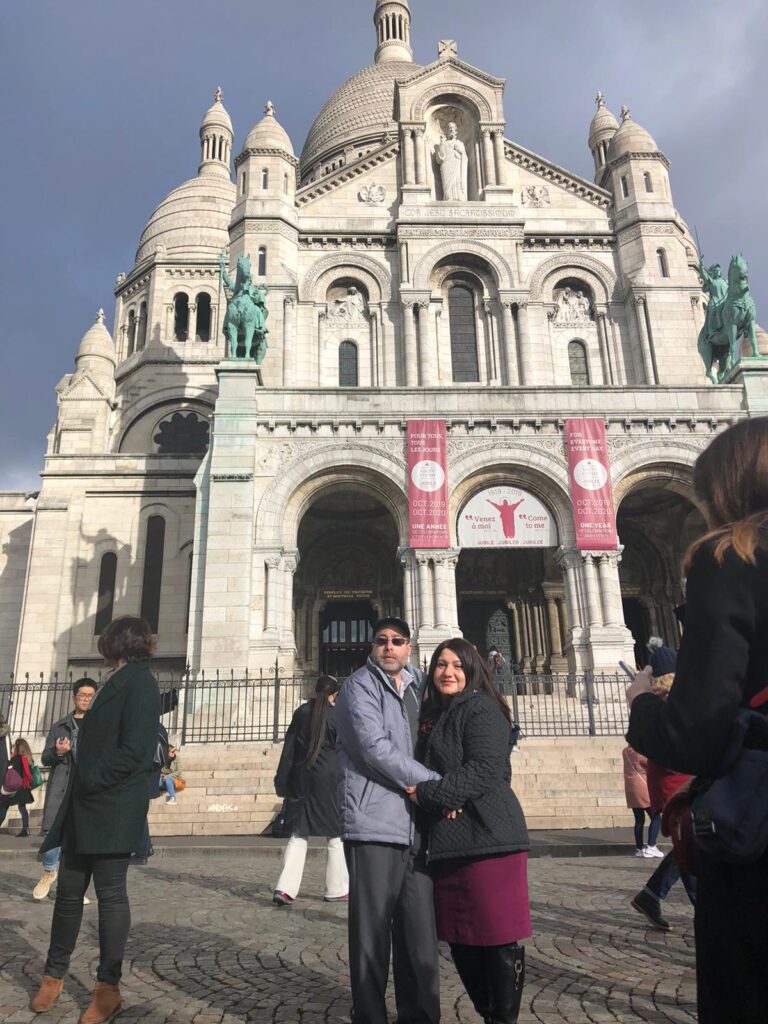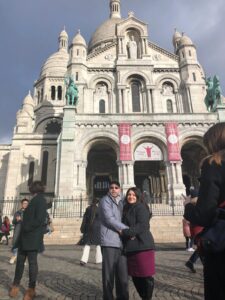 Take your time. I can wait for you in the parking lot, we will go to the next spot when you feel ready.
4 - See the Louvre Museum
The museum of the Louvre is the biggest Museum in the world. It is open only from Wednesday to Monday from 9 AM - 6 PM with some exceptions. The Louvre is also open by night on Friday and Wednesday.
We can see the Pyramid of Glass in front of the Louvre from the outside. We can take some pictures next to the Louvre Pyramid.
You can also get inside the museum for a quick visit with a professional tour guide, depending on the time we have.
5 - See Le Marais village and la Place des Vosges
Le Marais is one of the oldest villages of Paris, located right in the center of the city, filled with trendy boutiques and restaurants, locals go to le Marais to relax, eat, take a walk.
You can visit the jewish neighborhood, I can show and introduce you inside some synagogues with a special tour guide.
We will cruise in the historic Marais where we will see the most beautiful Royal square of Paris called La Place des Vosges.
We will explore the quiet streets of this amazing district and we will stop at the sublime bridges over the River, ride next to the medieval walls and a magnificently restored princess red castle.  
6 - See the Latin Quarter
The Latin quarter was the origin of Paris in 50 BC.
It was built by the Romans, as an entirely new city called Lutecia. It was a base for their soldiers and we can still see some of the ruins of the Roman Empire : the hot baths in Saint-Germain where we will go.
This quarter is full of small cafés, filled with law students. We will see medieval architecture and picturesque shops and many universities.
Famous for the Sorbonne University and the Medicine Museum, Descartes University, this quarter has a special young positive energy.
There is also another side to the Latin quarter. We will drive through the Haussmanian architecture of Paris Saint-Michel : a geometric architecture of Paris
You can hope off and hop in the car to take some pictures.
3 - Lunch Break at Angelina, Paris
After a long flight, my visitors often ask me to take a coffee, a croissant, a baguette or a big lunch break to taste the best foodies of the city.
We can go to a real local restaurant or a chic restaurant like Angelina Restaurant
This is where many American celebrities go, when they come to Paris.
Why Agelina?
Angelina is a famous chic restaurant located in the quarter where French designers and Haute couture pioneer have lived.
With a long history of almost 120 years, Angelina has become, like Le Meurice, an iconic place of Paris.
From the moment it opened, Angelina became the essential meeting place for the Parisian aristocracy.
In its salons, Proust, Coco Chanel and the greatest French fashion designers have met.
I advise you to taste their famous "Mont-Blanc" and the unforgettable hot chocolate called "The African".
I can make the reservation for you or you can call this number 0033 1 42 60 82 00 - The staff speaks English.
Address : 226 Rue de Rivoli, 75001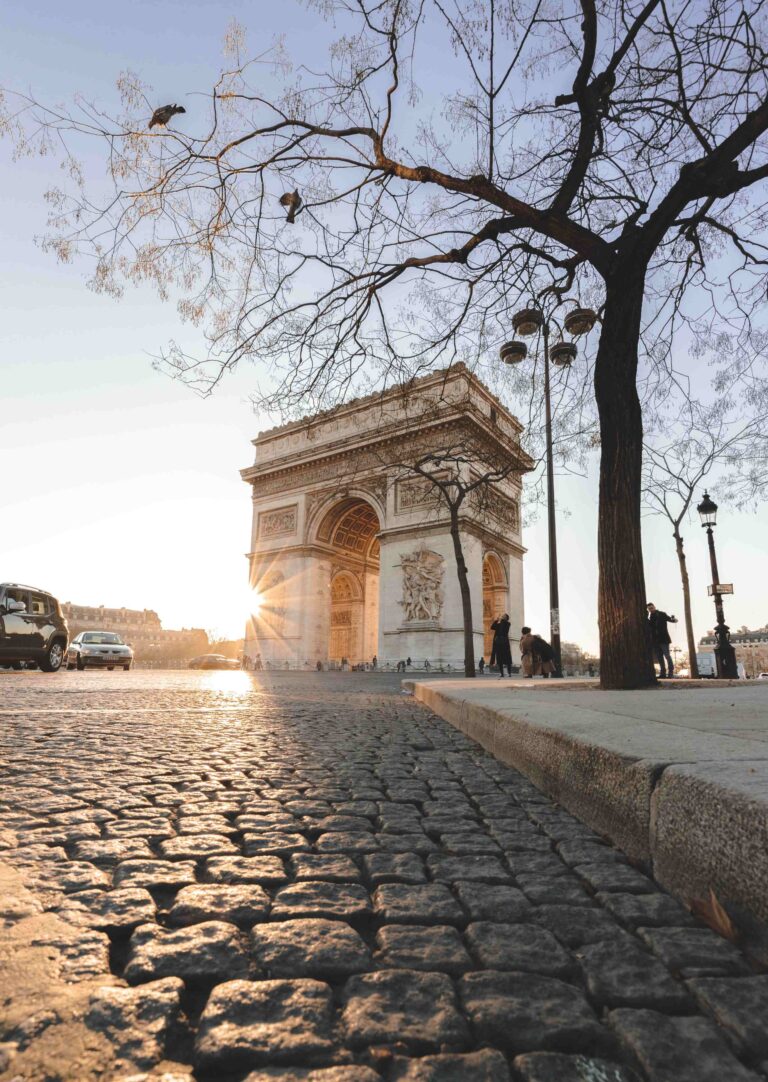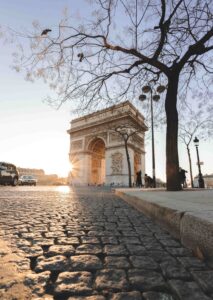 5 - The Arc de Triomphe
We will have the chance to see the "Arch of Triumph". Built by Napoleon after his victory at Austerlitz to show the Glory of his army.
The monument is big and very well decorated.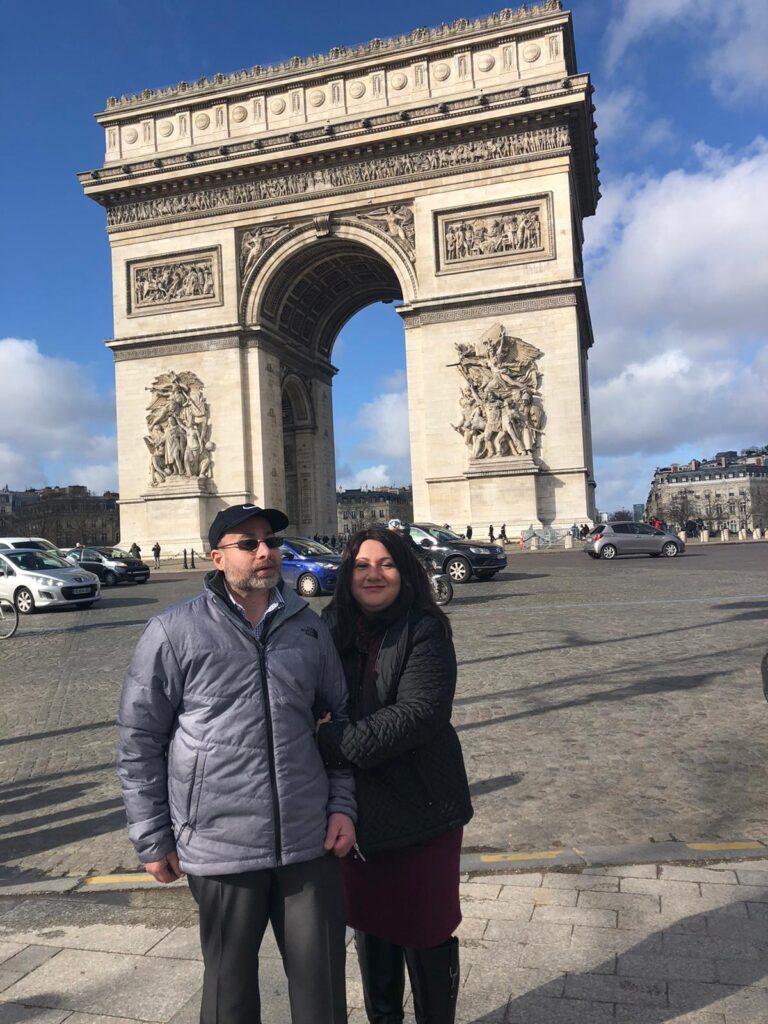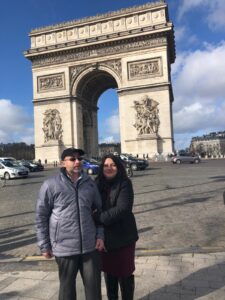 4 - Champs Elysées
No one thought a decade ago that the Champs Elysées, a World-Famous Avenue, will lose its attractiveness... This is where everyone used to come for shopping for beautiful things. Today, this area is little by little incorporated by restaurant chains like Starbucks, Burger king and Mac Donald... It now attracts the mass tourism and has traffic jams.
Do not worry.
With me, we will cruise the Avenue of Champs Elysées quickly, just to see what we need to see. We will not stop unless you ask me to.
I will take you to see the remaining prestigious boutiques and restaurants, the cabarets, the dinner shows, the reputable theaters:
- The Fouquet's : This is a nationally famous restaurant because this is where every newly elected french president goes to dinner to celebrate winning the elections at his first night in the Palais of Elysée.
- The Louis Vuitton, Maison Champs Élysées,
- Chanel and Dolce & Gabbana ... and many other boutiques.
If you are lucky to come on the 14th of July, you can see the French Military Parade on this Avenue.
6 - The Cleopatra needle in Paris
This monument is brought from ancient Egypt and it is older than Paris itself.
There are many Cleopatra's Needles in the major cities of the World: We saw real obelisks in New York, in London City, in Washington and in Paris.
They all come from the same ancient civilization: the Pharaohs of Egypt. During the colonization of Africa by the nations of Europe in the 19th century, Europe decided to "protect" the most valuable pieces of Art made by the humanity. So ... they brought many valuable, fragile Art pieces from other civilizations to Paris, to protect them.
This obelisk is famed as "Luxor Obelisk". This very big rock came on boat in 1830 then it is erected, using horses and a human chain, in the middle of Place de la Concorde, where you will also see the American Ambassy. Most famous movies are filmed here: Paris with Love, Three days in Paris...
The obelisk is decorated with golden hieroglyphs exalting the reign of the pharaoh Ramesses II. In 1998 the government of France added a golden pyramid top which makes it very shiny on a sunny day. The obelisk is sided by two fountains.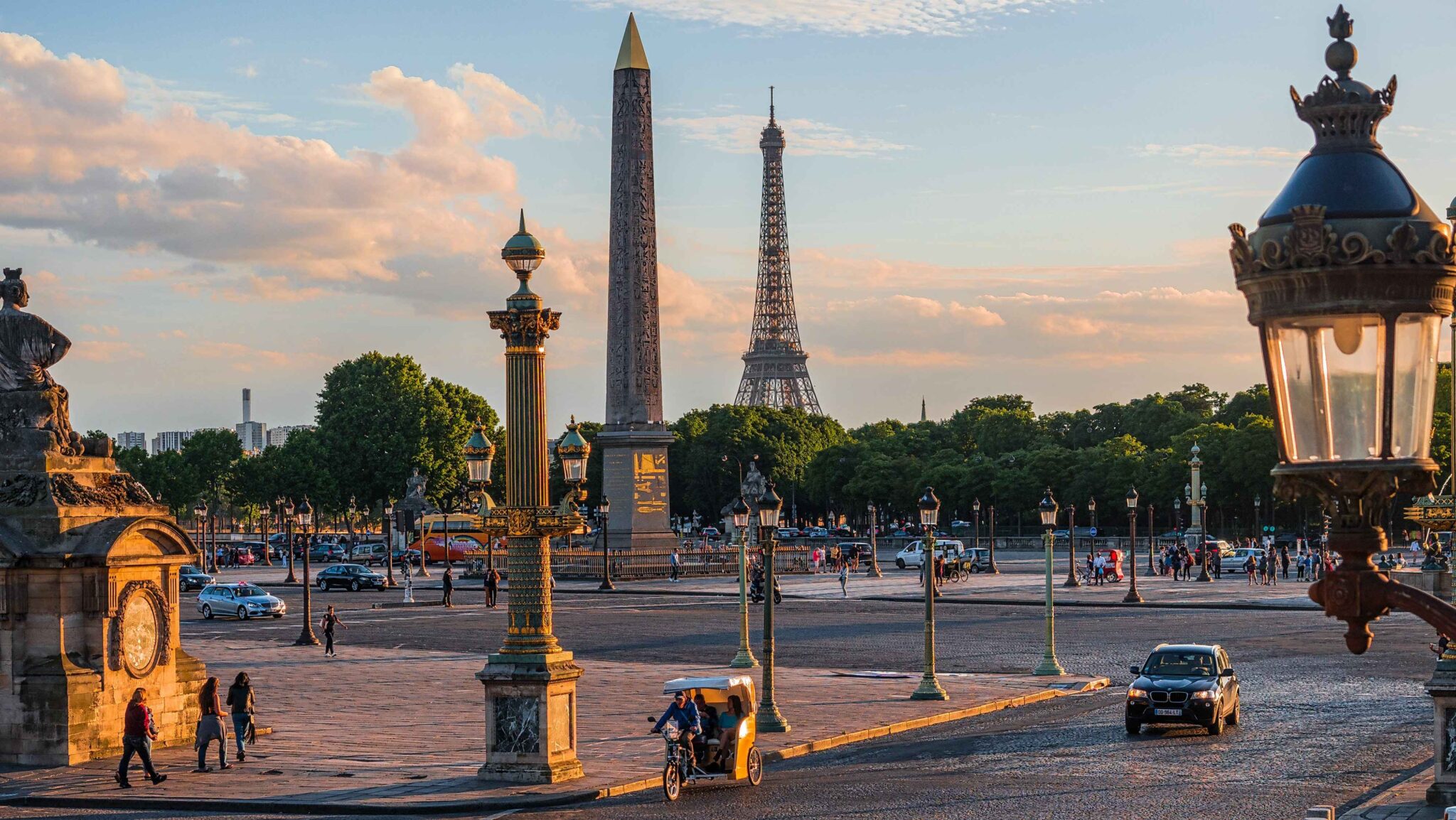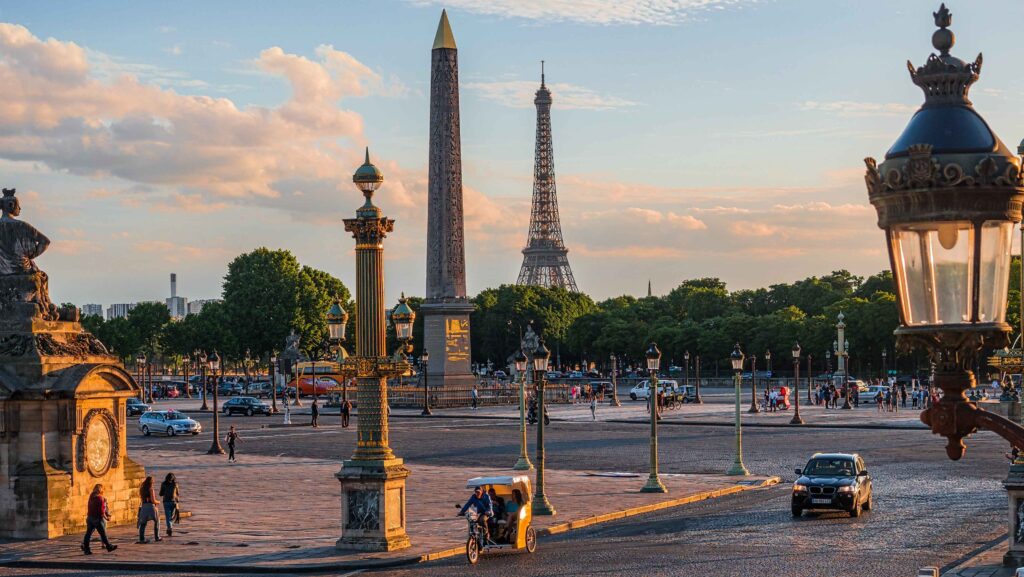 7 - Golded bridge of Alexander III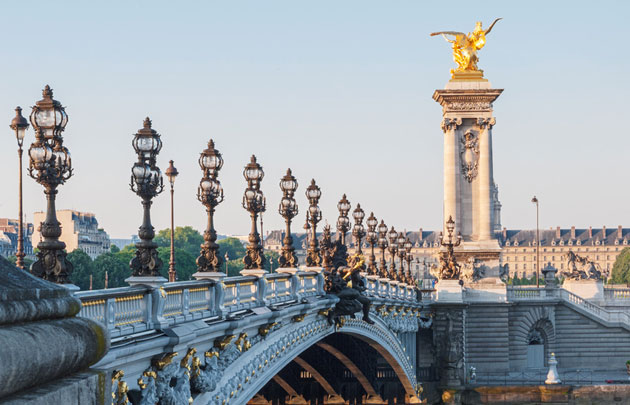 This is undoubtedly the most majestic of all Parisian bridges. This bridge which connects the Esplanade des Invalides to the Petit and Grand Palais has monumental ornamentation and an atypical history. I will tell you everything.
It has been built as a symbol of the Franco-Russian alliance.
It has been registered and classified as a protected monument of the world heritage, because since 1975, the Pont Alexandre III is a nugget of innovation and engineering.
The winged golden horses on each 4 pillars, display the Parisian proficiency in Arts, Sciences, Commerce and Industry.
Made in bronze and covered with real gold for you to see, on this public bridge.
Questions about your Layover in Paris ?
You can ask me here about my Paris Layover Tour. Please precise how many passengers and how many hours you will spend in Paris.
Boat ride on the river (best on Summer)
Paris evolved through the centuries around the river for fishing and agriculture, but mainly for commerce.
Today, we don't fish in the Seine river but we still use it for transport, for logistics and for toursim.
I believe it is important for my passengers to see the city from a the River point of view, as all the best monuments are facing the river Seine.
The ride is pricey but it is worth a try.
The boat sailor is a good guide and will navigate the river slowly for you to enjoy the view of all the monuments located next to the Seine.
You will see the monumental 12th century Gothic Cathedral of Notre Dame, the big museums facades like the Louvre from another side, the museum d'Orsay, Conciergerie...
You will hear stories about each landmark such as a big old prison, used during the french revolution for the kings of France...
You will go under the beautiful bridges, see some Parisian mansions, the old buildings of Paris and the residential apartments of the old city, the palaces of the 17th century, the two islands of Paris. Please wave back at the locals waving at you.
Finally see the immensity of the Eiffel Tower from the river perspective.
I can book for you the 2 hours round trip. I drop you at the meeting point and start your tour. then come pick you up to go back to the Airport.
Enjoy a small cozy private ride in a beautiful wooden boat. Don't forget to take amazing pictures!
8 - If we have more time
I would like to drive you in Rue du Faubourg Saint Honoré and see the designer boutiques and jewelries, if the timing alllows us.
This is a chic 19th century quarter, known for fashion, café culture, gastronomy and it is a global center for Art.
Fresh French Cuisine
A - Do you want to eat something in particular in France ?
Some visitors want to enjoy yummy Escargots. Escargots are cooked land snails with garlic... It is a common appetizer served at the beginning of the meal.
You can also get a taste of the best of Paris grilled prime rib (*Glatt Kosher if you want to) with a tasty french red wine and real home-made fries.
If you eat vegan or vegetarian: I can take you to a recommended vegan restaurant. Here is a list of Vegan restaurants in Paris to start with.
If you have no idea, then let's go to Rue du Faubourg-Saint-Denis, a popular spot for locals.
And if you let me choose for you, I would be happy to take you to Sentier area, a sephardi quarter with lots of good spots to eat. Taste the local Parisian and 100% french and fresh food.
B - Fresh from the market
We can take a break and enjoy sitting on a terrace like all Parisians do.
Order fresh coffee (Expresso) a home made café from a real roasted coffee beans machine.
I will take you to a good restaurant where the menu changes often depending on the season and the market. The ingredients are fresh, they are selected by the chef to create a new meal every time I go there.
I have worked with the nicest tour guides in Paris during my 20 years of career as a Driver in Paris. If you have time, we can hire a tour guide to get inside a museum while I wait for you outside.
Ask me by email if you need one of the top tour guides and I will send you some recommendation depending on your need and the specialty of the tour guide.
The tour guides I know are very good for the Louvre Highlights Tour, City walking Tours, Versailles Palace Tour, Normandy.
One of the best articulate and knowledgeable tour guide : Watch her video of Emma on the Louvre Guide website. We can hire her for an amazing Louvre Guided tour.
For the Jewish Paris and le Marais, Flora Goldenberg is by far the answer to your need.
Here is a picture of Flora and Emma.
12 - More Layover ideas in Paris
I wish I could show you everything 🙂
For Fashion and beautiful things: We can go shopping in the renovated beautiful Parisian department store : La Samaritaine or "Le bon Marché" like a real Local Parisian.
For food lovers: visit the small markets like Mabillon Market.
Du Pain et des Idées is a true 19th Parisian Bakery, where you can eat their famous Snail Bread. However this spot is not open on weekends.
We can stop the car and walk in the beautiful and historic Le Marais Neighborhood to see the Jewish neighborhood, the synagogues, eat a falafel or to do some shopping in its small boutiques.
We can stop at Saint Germain neighborhood which is a chic Parisian neighborhood. You will find some emblematic cafés and french brasseries, art galleries, atmospheric restaurants and some medieval museums.
I can take you to Montmartre and try All Good Things : it is a French brunch that will surely get us up for a good energy for a sightseeing day. We can have hot drinks, fresh orange juice, a starter, main course and desserts..
Do you want a driver to help you during the layover in Paris ?
I hope I helped you get inspired. I can provide you with a safe transportation and  a comfortable tour.
Contact me here and I will answer you soon !
Safety
Paris is one of the safest capitals in Europe, statistically speaking.
It is very safe for you to visit Paris with me in my car, and especially if we are going to only but the best spots and clean areas of Paris.
I will be in charge of your safety during the entire service.
Sanitary guidelines
We will wear masks, we need to wash our hands or use disinfectant, we will respect the safety distances.
I will give you a mask if you need one but wearing a mask is mandatory in the boutiques.
I always clean my cars thoroughly before and after each transfer.
I also disinfect all the knobs and seats thoroughly.
Summary
Landing in Orly or Charles de Gaulle ?
First of all, it makes no big difference for us, if you land in Orly Airport or in Charles de Gaulle. Both airports are fine, they are very well connected, they are nearly at the same distance from Paris Center which is : 30 minutes drive from Orly, 40 minutes drive from CDG.
If you land during rush hours, we will have to adapt.
We will use a Mercedes car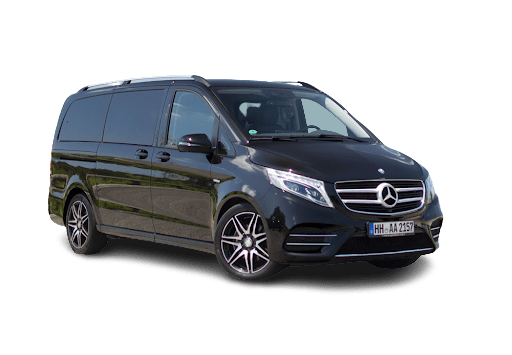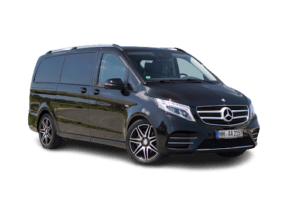 I will come pick you up at the gates. You will enjoy a clean and comfortable ride in a Mercedes Class V with a sober style, black interior, 7 seats and a mini refrigerator, with enough room for 4 big suitcases in the trunk.
I drive very safely and I take my time. Especially, for a Layover tour in Paris, it is best to drive slow to enjoy the view.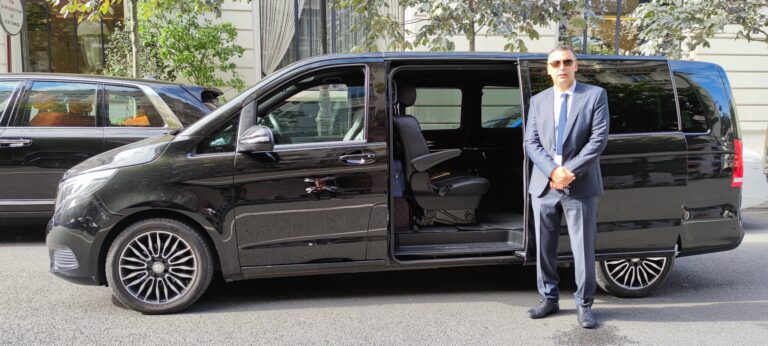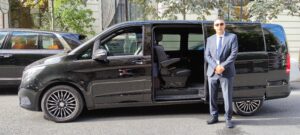 I am your driver. Get what you see.
My name is Sam and I am your personal driver in Paris. I have more than two decades of successful experience in tourism in Paris.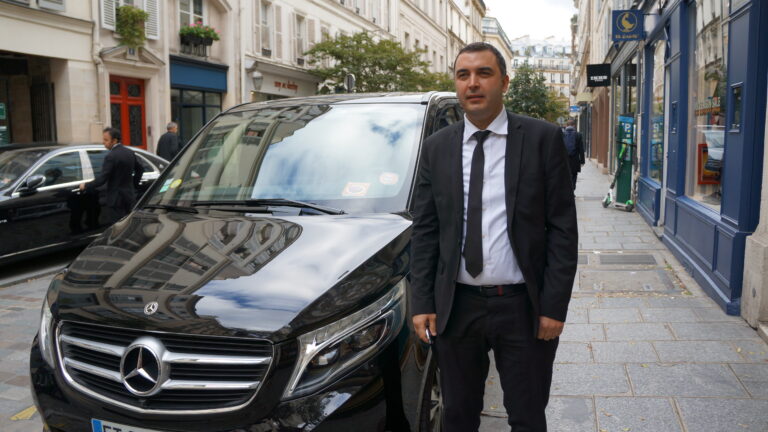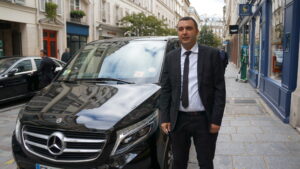 Your departure:
To be on time for your departure, we need to leave Paris center and head for the airport 3 hours before your flight.
I offer a Fast track service (for an extra fee) to squeeze the waiting time in the airport at your departure.
We will plan ahead by email:
I would need the flight number to help you efficiently. I will prepare the itinerary and look for the opening hours to get the most of the city, I will calculate the time to see the beautiful sites and give you my report by email, for free!
You can ask as many questions as you want by email.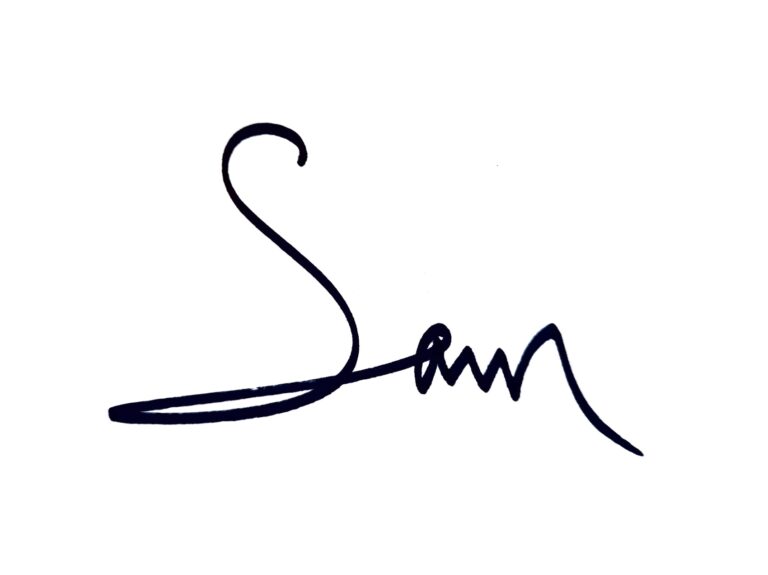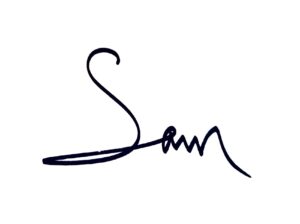 Our Layover tour is designed to be comfortable, easy and refreshing
We will plan everything ahead in order not to be on a hurry.
We will focus on the city most beautiful places, enjoy more time visiting the monuments, seeing the landmarks and chic quarters to get a nice impression of my city. We can shop from the most refined local boutiques offering the best products of this French Gourmet paradise.
---
Planning ahead by email:
Your time is precious. To get the most of your layover in Paris, I will help you by email or by video call.
We will send you a draft plan that would fit to your needs.
Then, we customize together the itinerary depending on your agenda : the arrival date, the arrival time, the departure time, the opening hours of the monuments/museums you want to see...
We will take into consideration the holidays & the traffic jams just in case.
Feel free to borrow my suggestions, to bookmark me, or contact me to hold a booking slot.
You can ask me as many questions as you need.
We will plan your Paris layover tour to the perfection: With my 20 years of experience we will avoid the rush hours, we will check everything twice and estimate the waiting time at each stop to optimize the visit.
Ready to book your Layover tour in Paris?
You can ask me questions, get a quote for your Paris Layover Tour. Please share with me the number of hours you will have in Paris.